Today, IoT systems run on a distributed client/server model which allows the administrator to manage the network. The connected devices rely on this central network to determine their behavior. Usually, it is considered the main focus of IoT-related cyber-attacks. The use of blockchain technology has resolved most of the security concerns. Decentralization will make the IoT network more autonomous, scalable, and protected against most of the common attack points. The important role of Blockchain Technology in fixing security problems of IoT.
Also Read: How Much Does it Cost to Build An Application Based on Blockchain?
Blockchain technology can be used to coordinate millions of smart devices and transmit data securely.  In addition, it can record transactions that allow seamless documentation of the overall history and network activities of any connected device. The decentralized setup makes it easy for smart devices to design and validate transactions. Some factors that can resolve your security issues are:
Security of Critical Transactions
Blockchain transactions are transparent and traceable. It combines IoT for essential processes in fields like agriculture and pharmacy and further helps them reduce the chances of drug counterfeiting or improve the quality of farm produce.
Reduction of Human Errors
Blockchain does not require having login credentials. Instead, all devices are formulated with an encrypted identity that can only be verified by the network. This reduces the chances of a security breach resulted in a human error. This is because all login activities are completed automatically by the decentralized system. All threats are tracked easily and reported immediately.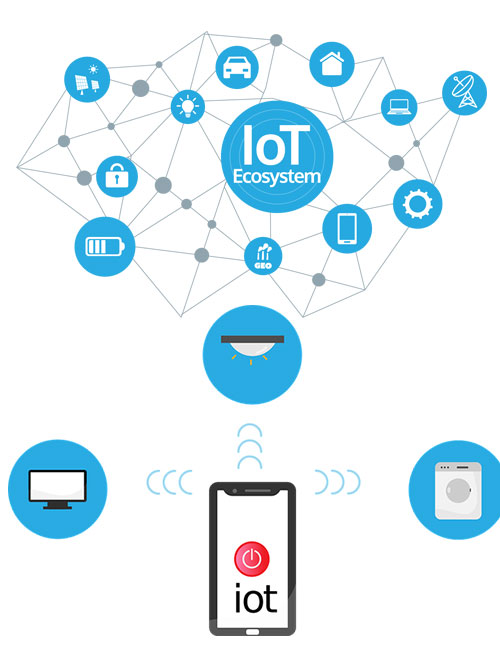 Also Read: How the Internet of Things (IoT) is changing the game of Web development?
Safe Data Storage
Blockchain technology creates a decentralized ledger and data records that are unchangeable. This allows easy protection and control of all communications occurring across the network.  Once all information generated by IoT devices is completely protected, the chances of successful large-scale network attacks become less.
Supply Chain Transparency
The supply chain management industry continuously deals with challenges like instances of illegalities surrounding the transportation of goods, fake goods, the inability to monitor transportation data, the integrity of products, and more. The combination of IoT with blockchain technology, products, and critical equipment in the supply chain management process targets digital IDs that enable easy monitoring.
Improved Device and Network Security
With blockchain technology, all communications between connected devices can be easily monitored and recorded. The data accessibility on suspicious login attempts and activity logs makes the network stronger. Businesses selling IoT goods to consumers can use blockchain to make their products secure without requiring any input from the customers. The overall security of the system will benefit the regulations as per the development and improvement of IoT devices.
Also Read: How IOT Apps Are Useful in Boosting B2C Customer Engagement?
However, the deployment of blockchain technology will pace the arrival of a completely secure IoT world. Regardless of the IoT solution, blockchain technology can enhance security while delivering even better results.

Conclusion
The application of IoT has become a global good. Due to this, the depth of adoption of IoT technologies can help lift humanity in different ways. It ensures proper security and the privacy and protection of data at all levels. Additionally, blockchain development can help resolve scalability issues and provide effective functioning of the system as well.
Thanks for reading our post "Role of Blockchain Technology in fixing security problems of IoT", please connect with us for any further inquiry. We are Next Big Technology, a leading web & Mobile Application Development Company. We build high-quality applications to full fill all your business needs.