Develop a Mobile Application with Next Big Technology: A Comprehensive Guide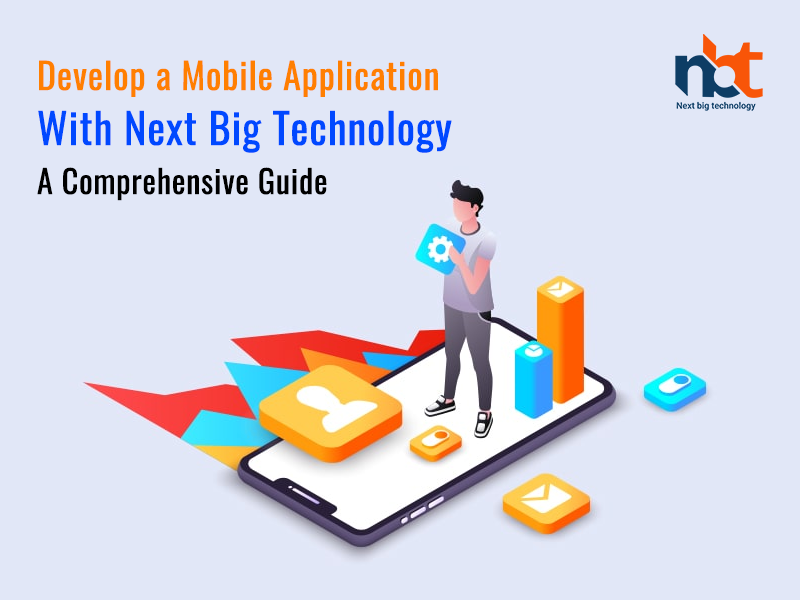 Mobile applications have become an integral part of our daily lives, revolutionizing the way we interact with technology. With the advancement of technology and the increasing demand for mobile apps, businesses are looking for reliable partners to bring their app ideas to life. In this guide, we will explore how to develop a mobile application with Next Big Technology (NBT), a renowned app development company. This comprehensive guide will cover the essential steps, benefits, services, and key considerations when working with NBT.
Why Choose Next Big Technology (NBT)?
Next Big Technology is a leading mobile app development company with a track record of delivering cutting-edge solutions. Here's why NBT stands out as a preferred choice:
Expertise: NBT boasts a team of skilled developers, designers, and strategists who are well-versed in the latest technologies and trends.
Diverse Services: NBT offers a wide range of services, including iOS and Android app development, web development, UI/UX design, and more.
Industry Experience: With years of experience, NBT understands the nuances of different industries and can tailor solutions to meet specific requirements.
Transparent Approach: NBT follows a transparent approach, keeping clients informed throughout the development process.
Client-Centric Solutions: NBT focuses on understanding client needs and delivering solutions that align with their business goals.
Key Steps to Develop a Mobile Application with NBT
Developing a mobile application with NBT involves a strategic approach and collaboration. Here are the key steps to guide you through the process:
Step 1: Ideation and Requirement Gathering
Brainstorm app ideas and define your project goals.
Work closely with NBT to gather detailed requirements for the app.
Step 2: Conceptualization and Strategy
Collaborate with NBT's strategists to refine your app concept.
Define the app's target audience, unique selling points, and features.
Step 3: Design and Wireframing
NBT's UI/UX designers create wireframes and prototypes for the app.
Review and provide feedback to ensure the design aligns with your vision.
Step 4: Development
Expert developers at NBT start coding the app using the latest technologies.
Regular updates and feedback sessions ensure the app is developing as per your expectations.
Step 5: Quality Assurance and Testing
Rigorous testing is conducted to identify and fix bugs and glitches.
The app undergoes compatibility testing, performance testing, and security testing.
Step 6: Deployment and Launch
NBT assists in deploying the app to app stores (Google Play Store, Apple App Store).
Launch marketing strategies are discussed to create a successful launch.
Step 7: Post-Launch Support and Updates
NBT offers ongoing support, addressing any issues that arise post-launch.
Regular updates are provided to ensure the app remains up-to-date and functional.
Benefits of Developing with NBT
Partnering with NBT for mobile app development offers numerous advantages:
Expertise: Leverage the skills of experienced developers who stay updated with the latest technologies.
Custom Solutions: NBT tailors solutions to your specific requirements and industry needs.
Time-Efficient: Benefit from NBT's efficient development process to bring your app to market sooner.
Cost-Effective: NBT offers competitive pricing, providing value for your investment.
Quality Assurance: Rigorous testing ensures your app functions seamlessly across devices.
Services Offered by NBT
NBT provides a wide range of services to cover every aspect of mobile app development:
iOS App Development: Develop robust and user-friendly iOS apps for Apple devices.
Android App Development: Create dynamic and feature-rich Android apps for a global audience.
Cross-Platform App Development: Build apps that work across multiple platforms using frameworks like React Native.
UI/UX Design: Design intuitive and visually appealing interfaces for optimal user experience.
Web Development: Develop responsive and functional web applications to complement your mobile app.
App Maintenance and Support: NBT offers ongoing maintenance and support to ensure your app remains updated and secure.
Key Considerations when Working with NBT
Clear Communication: Maintain open and clear communication with the NBT team to align expectations.
Collaborative Approach: Embrace a collaborative approach, involving NBT in decision-making.
Regular Updates: Stay informed about the app's progress and provide timely feedback.
Quality vs. Timeline: Balance between quality and project timeline to ensure a successful outcome.
Feedback and Adaptation: Provide constructive feedback to NBT and be open to adaptations based on their expertise.
Cost Structure for Developing a Mobile Application with Next Big Technology
Creating a mobile application is an investment that offers valuable returns in terms of user engagement, brand recognition, and revenue generation. The cost structure for developing a mobile application with Next Big Technology (NBT) encompasses various elements. Understanding these costs is crucial for effective budget planning. Let's break down the cost structure:
**1. App Design and Development Costs
UI/UX Design: Designing the user interface and user experience to ensure an appealing and intuitive app. This involves wireframing, prototyping, and creating visual designs.
Front-End Development: Building the visible parts of the app that users interact with. This includes navigation, buttons, forms, and other visual elements.
Back-End Development: Developing the behind-the-scenes functionalities like database management, user authentication, and integration with third-party services.
Functionality Development: Implementing specific features, functionalities, and integrations that align with your app's objectives.
2. Third-Party Integrations and Services
Payment Gateways: Integration of payment gateways like Stripe or PayPal for secure transactions.
Maps and Geolocation: Integration with mapping services to provide location-based features.
Notifications: Implementation of push notifications and alerts to engage users.
Analytics and Tracking: Integrating analytics tools to monitor user behavior and app performance.
3. Testing and Quality Assurance Costs
Testing: Rigorous testing to identify and fix bugs, ensuring the app's functionality and usability.
Quality Assurance: Ensuring the app performs well across different devices, platforms, and scenarios.
4. Deployment and Launch Costs
App Store Fees: Costs associated with publishing your app on platforms like the Apple App Store and Google Play Store.
Promotion and Marketing: Budget for promoting your app's launch, including online advertisements, social media marketing, and other promotional activities.
5. Ongoing Maintenance and Updates
Bug Fixes and Enhancements: Allocating resources for continuous improvement, addressing bugs, and adding new features.
Server Costs: Monthly fees for hosting the app's data and services on cloud platforms like AWS, Google Cloud, or Azure.
6. Miscellaneous Costs
Consultation and Strategy: Budget for initial consultation, project scoping, and strategic planning.
UI/UX Iterations: Costs for making design changes based on user feedback during development.
Legal and Regulatory Compliance: Expenses related to legal consultation for terms of use, privacy policies, and regulatory compliance.
7. App Maintenance and Support Costs
Maintenance Packages: Opting for maintenance packages offered by NBT to ensure continuous support and updates.
Bug Fixes: Costs associated with addressing any bugs or glitches that arise after launch.
Feature Updates: Adding new features or enhancing existing ones based on user feedback and market trends.
8. Resource and Development Team Costs
Development Team: The cost of hiring skilled developers, UI/UX designers, and quality assurance testers.
Project Management: Costs associated with project managers who oversee the development process.
UI/UX Designers: Expenses related to UI/UX designers who create visually appealing interfaces.
Quality Assurance Testers: Budget for testers who ensure the app's functionality and quality.
9. App Type and Complexity
The complexity and type of app also impact costs:
Basic App: Simple apps with essential features tend to cost less.
Mid-Level App: Apps with moderate complexities, multiple features, and integrations have a mid-level cost.
Complex App: Advanced apps with intricate functionalities, real-time features, and advanced integrations require a higher budget.
10. Additional Services
Data Migration: If your app involves migrating data from an existing system.
API Integrations: Integrating with third-party APIs or services for additional functionalities.
Developing a mobile application with Next Big Technology involves various cost components that contribute to the overall budget. Proper planning, clear communication, and understanding the factors influencing costs will help you navigate the development process efficiently. By considering the elements outlined in this cost structure, you can make informed decisions and ensure a successful mobile app development journey with Next Big Technology.
Options to Hire Next Big Technology for App Development
Next Big Technology (NBT) is a reliable partner for transforming your app idea into reality. They offer flexible engagement models to cater to your specific project needs, ensuring a successful app development journey. Here are the options available to hire NBT for app development:
**1. Fixed Price Model
The Fixed Price Model is ideal when you have a well-defined project scope and a fixed budget. NBT provides you with a detailed project proposal outlining the scope, features, timeline, and cost. This model is suitable for projects with clear requirements and limited changes expected during development.
Advantages:
Clearly defined project scope and budget.
Minimal risk of cost overruns.
Suitable for small to medium-sized projects with straightforward requirements.
2. Time and Material Model
The Time and Material Model is a flexible option where you pay based on the time and resources utilized. This model is suitable for projects with evolving requirements or when the scope isn't completely defined at the outset. It allows for adjustments during development based on changing market trends or user feedback.
Advantages:
Flexibility to adapt to changing project requirements.
Accommodates ongoing changes and iterations.
Ideal for projects with evolving features or complex functionalities.
3. Dedicated Development Team
The Dedicated Development Team model involves hiring a team of skilled professionals from NBT who work exclusively on your project. You have full control over the team, project scope, and tasks. This model is suitable for long-term projects requiring continuous development and maintenance.
Advantages:
Complete control and ownership of the project.
Scalability to meet changing project demands.
Access to specialized skills and expertise from NBT's team.
4. Hybrid Model
The Hybrid Model combines aspects of both Fixed Price and Time and Material models. It's suitable for projects where you have a well-defined core scope but also anticipate changes during development. The core scope is handled under a fixed price, while any additional requirements are managed on a time and material basis.
Advantages:
Balance between cost predictability and flexibility.
Suitable for projects with a mix of fixed and evolving requirements.
Provides room for adaptation without compromising on budget control.
5. Full-Cycle Development
NBT offers end-to-end app development services, covering the entire development lifecycle from ideation to deployment and post-launch support. This model is ideal if you're looking for a comprehensive solution that covers every stage of app development.
Advantages:
Simplified project management with a single partner.
Streamlined communication and collaboration throughout the development process.
Comprehensive services from conceptualization to post-launch support.
6. Customized Engagement
NBT understands that every project is unique. They're open to creating a customized engagement model tailored to your specific project requirements, budget, and timeline. This approach ensures that your project gets the attention and resources it deserves.
Advantages:
Tailored solutions that match your project's needs.
Flexibility to adapt to unique project requirements.
NBT's expertise and resources aligned with your specific goals.
Next Big Technology (NBT) offers a variety of engagement models to hire them for app development, accommodating diverse project requirements and preferences. By choosing the right engagement model based on your project scope, budget, and goals, you can ensure a successful partnership with NBT and bring your app idea to fruition.
Post-Development Support from Next Big Technology
Creating a successful mobile application is not just about development; it's also about ensuring the app's continued functionality, user satisfaction, and adaptability to changing market trends. Next Big Technology (NBT) understands the importance of post-development support and offers comprehensive services to help you maintain and enhance your app's performance even after launch.
Why Post-Development Support Matters?
After your app is launched, users will interact with it, provide feedback, and encounter varying scenarios. This phase requires ongoing attention to:
Bug Fixes: Addressing any issues that arise after the launch.
Updates: Incorporating new features and improvements based on user feedback.
Compatibility: Ensuring the app functions well on different devices and operating systems.
Security: Regularly updating the app to address security vulnerabilities.
User Satisfaction: Responding to user feedback and enhancing the user experience.
Post-Development Support Services
NBT offers a range of post-development support services to ensure your app's continued success:
1. Bug Fixing and Issue Resolution
NBT's team monitors the app for bugs, glitches, and issues reported by users.
Swift resolution of identified issues to maintain the app's performance and user satisfaction.
2. Feature Enhancements
Continuous improvement of the app's features based on user feedback and emerging trends.
Integration of new functionalities to keep the app relevant and competitive.
3. Performance Optimization
Monitoring and optimizing the app's performance to ensure it runs smoothly.
Addressing bottlenecks and improving loading times for enhanced user experience.
4. Security Updates
Regular assessment and updates to address any security vulnerabilities.
Implementing measures to protect user data and maintain data privacy.
5. Platform Updates
Keeping the app compatible with the latest versions of operating systems.
Ensuring a seamless experience for users regardless of their device or OS version.
6. User Support
Providing ongoing customer support to address user inquiries and concerns.
Guiding users through any difficulties they encounter while using the app.
7. Analytics and Insights
Monitoring user behavior and engagement through analytics tools.
Utilizing data-driven insights to make informed decisions about app improvements.
Benefits of Post-Development Support from NBT
Partnering with NBT for post-development support offers several advantages:
Expertise: NBT's skilled team ensures your app remains optimized and functional.
Reliability: Consistent support enhances user trust and satisfaction.
User-Centric Approach: User feedback is incorporated to enhance the app's usability.
Time Savings: Outsourcing support allows you to focus on your core business activities.
Future-Proofing: Continuous updates keep the app competitive and relevant.
Post-development support is a critical phase of the app lifecycle that requires continuous attention and optimization. Next Big Technology (NBT) understands the significance of this phase and offers a range of support services to ensure your app's ongoing success. By availing NBT's post-development support, you can maintain a high-performing, user-friendly app that adapts to changing user needs and technological advancements.
What Clients Say About Next Big Technology App Development Services
The true measure of an app development company's success lies in the satisfaction of its clients. Next Big Technology (NBT) has garnered praise from clients across various industries for their exceptional app development services. Here are some testimonials from satisfied clients who have partnered with NBT:
Client 1:
"Working with Next Big Technology has been an incredible experience. From the initial consultation to the final app launch, their team demonstrated professionalism, expertise, and an unwavering commitment to excellence. The app they developed for us exceeded our expectations, and their post-launch support has been outstanding. NBT truly understands our vision and delivers results that align perfectly with our goals."
John Doe, CEO of XYZ Tech Solutions
Client 2:
"We approached Next Big Technology with a complex app idea, and they turned it into reality seamlessly. Their dedicated development team exhibited a deep understanding of our industry and user needs. The app they developed not only met our specifications but also incorporated innovative features that set us apart from competitors. The communication throughout the development process was exceptional, making it a truly collaborative journey."
Jane Smith, Founder of ABC Fitness App
Client 3:
"Choosing Next Big Technology for our app development project was one of the best decisions we made. Their attention to detail, technical prowess, and adherence to deadlines are commendable. They took our app idea and transformed it into a user-friendly, visually appealing, and high-performing application. The post-development support they provide ensures that our app remains up-to-date and continues to provide value to our users."
Mark Johnson, CTO of E-commerce Emporium
Client 4:
"The professionalism and expertise exhibited by Next Big Technology's team were exceptional. Their ability to grasp the nuances of our business and translate them into a feature-rich app was impressive. The user interface they designed surpassed our expectations and received rave reviews from our users. We highly recommend NBT to anyone looking for a reliable partner in app development."
Emily Brown, Marketing Director of Foodie Delights
Client 5:
"NBT's dedication to delivering excellence is truly commendable. They not only created a functional and aesthetically pleasing app for us but also guided us through the entire process with transparency and open communication. Their knowledge of the latest technologies and industry trends ensured that our app remains cutting-edge. We are extremely satisfied with their services and look forward to future collaborations."
Michael Williams, COO of Financial Wizards
These testimonials offer a glimpse into the positive experiences clients have had while working with Next Big Technology for app development. The consistent theme across these reviews is NBT's commitment to quality, expertise, collaboration, and post-development support. These testimonials serve as a testament to NBT's ability to deliver innovative, user-centric, and successful app solutions that drive client satisfaction.
What Sets Next Big Technology Apart from Other Tech Companies
In a competitive landscape filled with tech companies, Next Big Technology (NBT) shines as a standout player, driven by its commitment to innovation, excellence, and client satisfaction. What truly distinguishes NBT from the rest is a combination of its core values, expertise, and customer-centric approach. Here's a closer look at what makes NBT different:
1. Holistic Approach to Solutions
NBT takes a comprehensive approach to solution development. Instead of merely delivering products, they create solutions that address specific business challenges and goals. Their team collaborates closely with clients to understand their needs, industry dynamics, and user expectations. This results in tailored solutions that go beyond meeting expectations to exceeding them.
2. Diverse Industry Expertise
What truly sets NBT apart is their expertise across diverse industries. They have successfully delivered solutions for healthcare, e-commerce, education, real estate, and more. This extensive industry knowledge enables NBT to create apps that resonate with target audiences and fulfill industry-specific requirements.
3. User-Centric Design Philosophy
NBT places a strong emphasis on user-centric design. Every app they develop is crafted to provide an intuitive, engaging, and seamless user experience. This approach doesn't just involve aesthetics; it involves understanding user behavior, needs, and pain points to create apps that users love to interact with.
4. Technology Excellence
NBT's tech prowess is second to none. They keep up with the latest advancements in technology, ensuring that the apps they develop are built using the most cutting-edge tools and frameworks. This commitment to staying at the forefront of technology empowers NBT to deliver apps that are not only functional but also future-proof.
5. Client Collaboration and Communication
NBT thrives on open communication and collaboration with clients. Their team believes in involving clients at every stage of the development process. Regular updates, feedback sessions, and transparent communication ensure that clients remain informed and engaged, making the journey from ideation to deployment seamless and enjoyable.
6. Agility and Flexibility
In a rapidly evolving tech landscape, agility is key. NBT embraces change, adapts to evolving project requirements, and leverages its flexibility to stay ahead. Their dynamic approach allows them to navigate challenges, seize opportunities, and keep projects on track, even in the face of uncertainty.
7. Post-Development Support
NBT's commitment doesn't end with the app launch. Their comprehensive post-development support ensures that apps remain optimized, secure, and relevant. The dedication to ongoing maintenance, updates, and user support reflects their long-term commitment to client success.
8. Testimonials and Reputation
The positive testimonials and reviews from satisfied clients underscore NBT's excellence. These testimonials serve as evidence of NBT's ability to transform ideas into successful apps while exceeding client expectations. A strong reputation is built on consistent delivery of exceptional services.
In a tech landscape that's constantly evolving, Next Big Technology stands as a beacon of excellence. Their holistic approach, industry expertise, user-centric design, technological prowess, collaborative mindset, and unwavering commitment to client success set them apart from other tech companies. NBT isn't just in the business of developing apps; they're in the business of transforming visions into realities.
Mobile Application Development Process at Next Big Technology
Creating a successful mobile application requires a systematic and well-structured approach that encompasses various stages. Next Big Technology (NBT) follows a comprehensive development process to ensure that your app idea is transformed into a functional and user-friendly reality. Here's an overview of the mobile application development process at NBT:
1. Discovery and Requirement Gathering
Project Kickoff: A thorough discussion to understand your app idea, objectives, target audience, and business goals.
Market Research: NBT conducts in-depth research to analyze competitors, identify trends, and validate your app concept.
Requirement Analysis: Collaborative sessions to gather detailed project requirements, features, and functionalities.
2. Conceptualization and Strategy
Idea Refinement: NBT's strategists refine your app idea, suggesting enhancements and unique selling points.
Feature Prioritization: Defining the core features and functionalities that align with your app's goals and user needs.
Technology Stack Selection: Identifying the most suitable technologies and frameworks for your app's development.
3. Design and Wireframing
User Experience (UX) Design: NBT's UI/UX designers create wireframes and prototypes to outline the app's user flow and interactions.
User Interface (UI) Design: Transforming wireframes into visually appealing designs that reflect your brand identity.
Review and Approval: Regular feedback loops to ensure the design aligns with your vision before moving to development.
4. Development
Front-End Development: Expert developers bring the app's user interface to life, focusing on responsive design and user interactions.
Back-End Development: Developing the app's server-side logic, database management, and integrations with external services.
Functionality Implementation: Coding the features and functionalities according to the approved design and requirements.
5. Quality Assurance and Testing
Unit Testing: Individual components and functionalities are rigorously tested to ensure their accuracy and performance.
Integration Testing: Testing the interaction between different modules to ensure smooth communication.
User Acceptance Testing (UAT): Beta testing with real users to identify any issues, gather feedback, and make improvements.
6. Deployment and Launch
Deployment Preparation: Preparing the app for launch by optimizing its performance, security, and compatibility.
App Store Submission: NBT assists in submitting the app to app stores (Google Play Store, Apple App Store) following their guidelines.
Launch Marketing: Collaborative discussions on marketing strategies to create a successful app launch.
7. Post-Launch Support and Updates
Ongoing Support: NBT offers continuous support to address any issues, bugs, or glitches that arise post-launch.
Regular Updates: Keeping the app up-to-date with technological advancements and user feedback-driven improvements.
8. Data Analytics and Insights
Implementation of Analytics: Integration of analytics tools to track user behavior, engagement, and app performance.
Data-Driven Enhancements: Utilizing data insights to identify trends and make informed decisions for app enhancements.
9. Scaling and Future Development
Monitoring and Scalability: Continuous monitoring of app performance to ensure it scales effectively as user numbers grow.
Future Feature Additions: Collaborative planning for introducing new features and functionalities based on evolving user needs.
The mobile application development process at Next Big Technology is a meticulously planned journey that encompasses discovery, design, development, testing, deployment, and ongoing support. By following this comprehensive process, NBT ensures that your app is not only functional but also aligns seamlessly with your business goals and user expectations.
Hiring an App Developer with Next Big Technology
When you partner with Next Big Technology (NBT) for your app development needs, you gain access to a pool of skilled and experienced app developers who are dedicated to bringing your vision to life. Hiring an app developer with NBT is a seamless and collaborative process that ensures your project is in capable hands. Here's an overview of how you can hire an app developer with NBT:
1. Initial Consultation
The process begins with an initial consultation where you discuss your app idea, goals, and requirements with NBT's team.
During this consultation, you'll have the opportunity to ask questions, clarify doubts, and understand how NBT can contribute to your project's success.
2. Project Scoping and Planning
After the initial consultation, NBT's team will work with you to scope and plan the project.
This involves defining the project's scope, features, timeline, and budget. It's a collaborative process where both parties align their expectations.
3. Skill Match and Developer Selection
Based on your project's requirements and technical needs, NBT will identify the most suitable app developers from their team.
These developers will have the expertise required to fulfill your project's goals and deliver high-quality results.
4. Communication and Collaboration
Once the developer(s) are selected, NBT fosters open communication and collaboration throughout the project.
Regular updates, progress reports, and feedback loops ensure that you are involved and informed at every stage of development.
5. Development Process
The app development process kicks off with the selected developer(s) working on bringing your app idea to life.
They follow industry best practices, coding standards, and ensure the app meets your specifications and expectations.
6. Quality Assurance and Testing
NBT's quality assurance team rigorously tests the app to identify and address any bugs, glitches, or issues.
This phase ensures that the app is stable, functional, and provides a seamless user experience.
7. Client Review and Feedback
Before finalizing the app, you'll have the opportunity to review the developed features and functionalities.
Your feedback is integrated into the project to ensure that the app aligns with your vision and objectives.
8. Deployment and Post-Launch Support
NBT handles the deployment of the app to the desired platforms (app stores) following industry standards.
Even after the app is launched, NBT continues to provide post-launch support, addressing any issues or updates that may arise.
9. Ongoing Relationship
Hiring an app developer with NBT often leads to long-term partnerships.
As your business evolves, NBT can continue to provide support, updates, and enhancements to keep your app competitive.
Hiring an app developer with Next Big Technology is more than just finding a skilled professional; it's about gaining a dedicated partner who is committed to realizing your app's potential. NBT's transparent communication, industry expertise, and collaborative approach ensure that your app development journey is smooth, successful, and aligned with your goals.
Conclusion
Developing a mobile application with Next Big Technology (NBT) is a strategic choice for businesses looking to create innovative and user-centric apps. With a team of experts, a client-centric approach, and a track record of success, NBT offers a comprehensive solution to transform your app idea into reality. By following the steps outlined in this guide and considering the key considerations, you can navigate the app development process smoothly and achieve a successful app launch with NBT.