The demand for full-stack developers is increasing and it is mostly driven by rules and requirements. The increasing demand is entirely depending on the completion of the project by fulfilling the need. Full-stack developers are having proper knowledge along with comfortable working with back end as well as front end projects.
So, we can completely say that hiring a full stack developer is the best option to have proper development of app and website. According to the global market in the IT sector, it is the best decision to hire any full-stack developers for proper development services. Although it is an important question to know about the cost of hiring any full-stack developer in India.
It is difficult to find full-stack developers due to their experience and skills. The majority of them are already being hired for various important projects. Due to being completely productive towards the back end and front-end development, they are highly in demand. Full-stack developers are available to be hired on an hourly, weekly, or monthly basis according to the requirement of the project.
Also read : How to Where to Get the Right Full-Stack Developer?
Understanding Full Stack Developers:
Finding a full-stack developer in India could be a difficult task. There are multiple options available to choose from based on experience and skill. Every full-stack developer needs to be well versed with the programming languages. They need to offer user-friendly, interactive, and flexible applications with every project outcome.
Full-stack programmers and developers are highly experienced in front-end development along with back-end management. They will be using database deployment and server-side with Apache, Ruby, Python, AWS, MySQL, and much more. The average cost of hiring a full-stack developer should be around $12 to $35 per hour.
At this range, you will be able to get decent support and service with every project. Full-stack app development company are having an experienced team who are capable of developing responsive, user-friendly, attractive applications for global clients. Proper identification and hiring of full-stack developers in India will help in saving money and time for the project.
It is important to look for the best service in the range along with the high experience of the developer. Most importantly full-stack development company will be offering a customized solution for every client. It is expected to have the best outcome from the developers with the delivery of the high-quality project.
Full-stack developers are also offering cost-effective prices based on their experience to deliver the project. Every experienced full stack developer will understand the job properly and consider them as the necessity for the project. They will implement all the abilities for properly designing the client software according to the requirement.
They follow specific steps which makes them unique among others in the IT sector. They are highly well versed with all the programming languages along with essential frameworks. They need to be well equipped with the understanding and ability to program a browser, create the database and even program its server from scratch.
Most of the time well equipped full-stack developers are hard to find but you can get connected with well-known software developer companies.
Cost of Hiring Full Stack Developers in India:
Full-stack developers are hired based on experience, and they are being classified into three categories in India. It is important to understand the skill and experience before hiring them. The more experience any full-stack developer is having the mode they are charging for the development process. We have listed 3 categories of the classification of full-stack developers according to the experience. This will enable you to understand the budget for hiring them for your project.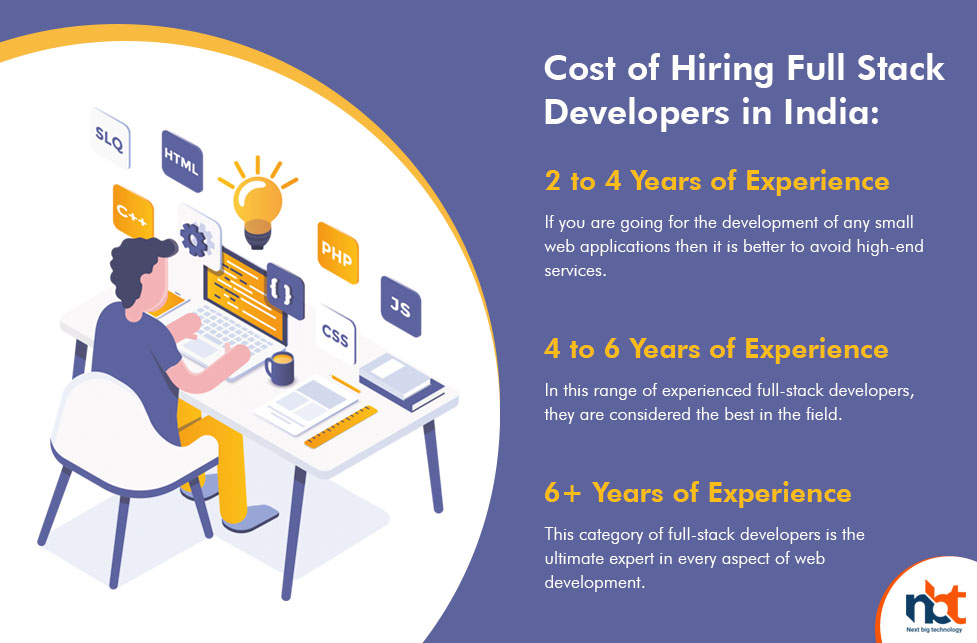 • 2 to 4 Years of Experience:
If you are going for the development of any small web applications then it is better to avoid high-end services. Developers with low experience can handle such projects with budget-friendly options. Small wave application is having a limited number of pages as it does not require much interaction with the customers. It is mostly for getting the connection of the database along with the proper front-end development.
If your project matches the requirement then this category of the full-stack developer is for your hiring. This category of full-stack developers charges around $14 to $15 per hour. Even though this is the average charge the charges may change depending on the scope of the project. They will offer decent project outcomes for every small business brand.
• 4 to 6 Years of Experience:
In this range of experienced full-stack developers, they are considered the best in the field. They are having high-end experience in full-stack development with lots of exposure. They are experienced in creating high-end web applications. They are well aware and comfortable with the usage of technological trends which makes them the better option among others.
In case you are looking for hiring the best full-stack developer, then they will ensure in developing complex web applications. They are having experience in working with complicated databases and use databases which are having multiple trending features. They are highly trained to work with front-end development and the user interface of web applications.
Also read : How to become a full-stack developer?
We would recommend you hire full-stack developers in this range of experience category to ensure a high-end outcome for your project. The cost of hiring such a full-stack developer is ranging between $16 to $18 per hour. Although the range is entirely dependent on the usage of technologies required for the development of your project.
We can ensure that you will get the best outcome with this range of full-stack developers.
• 6+ Years of Experience:
This category of full-stack developers is the ultimate expert in every aspect of web development. They are highly capable of completing any project with excellence. They might be leading a team full of full-stack developers with the proper path to having the outcome. According to the requirement they are available for hire for more than $2500 per month or more. Due to their high-level expertise hiring them on an hourly basis can be out of budget.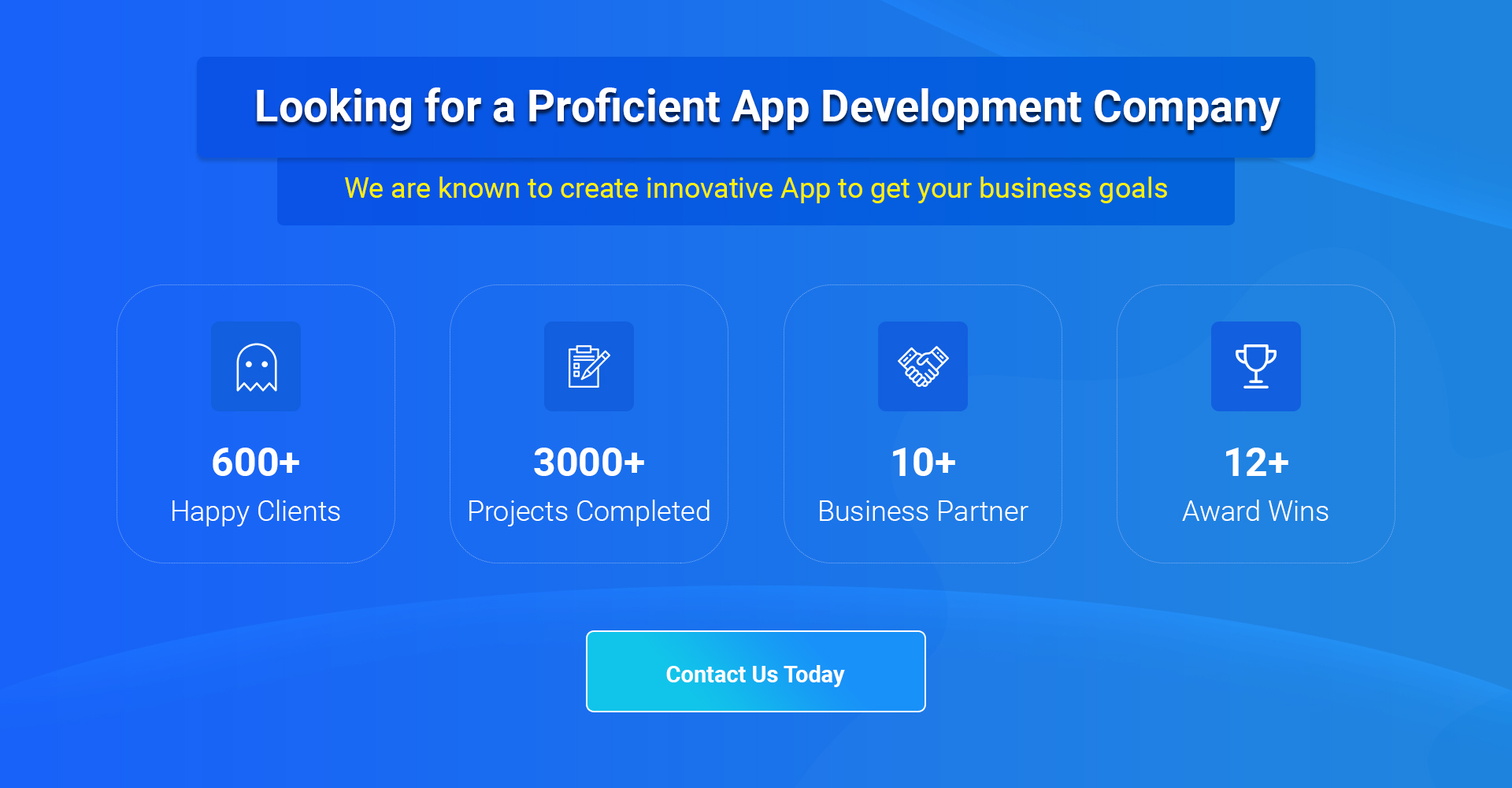 Thanks for reading our post "How Much Does It Cost to Hire a Full-Stack Developer in India", please connect with us for any further inquiry. We are Next Big Technology, a leading web & Mobile Application Development Company. We build high-quality applications to full fill all your business needs.