Location-tracking applications will be a necessary part of our lives by 2023. These applications provide a degree of ease and peace of mind previously unattainable, whether we use them to discover the best route to a new restaurant, follow our daily fitness regimen, or keep tabs on our loved ones.
It might be challenging to choose which location monitoring applications are the best for your purposes, given the abundance of options. We have compiled a list of the top location monitoring apps for 2023 to aid you.
Best Location Tracking Apps
1. Find My iPhone
Locate My iPhone is one of the top location monitoring applications if you own an Apple smartphone. It can assist you in finding not just your stolen or misplaced iPhone and other Apple products like an iPad or MacBook.
The ability to follow your cell phone even when it is offline is one of Find My iPhone app finest features. This implies you can still locate your iPhone's last known position, even if it is off or out of battery. You can remotely lock or delete your device using Find My iPhone to protect your personal information.
2. Google Maps
With good reason, Google Maps has been a standard location-tracking program for many years. It includes several features that make your journeys simpler and more fun, in addition to precise instructions and traffic updates.
The option to store offline maps is one of Google Maps' finest features. As a result, even without an internet connection, you can still get maps and directions. To help you plan your route, Google Maps also provides real-time public transit updates.
3. Life360
Life360 is a terrific choice if you're searching for a family monitoring app to help you monitor your family's whereabouts. This app lets you circle with your loved ones to track their whereabouts.
Life360 offers services, including emergency aid, roadside assistance, criminal warnings, and location monitoring. Even automated notifications may be set up to notify you when family members arrive at particular areas, such as work or school.
4. Glympse
With the help of the location-tracking software Glympse, you may share your whereabouts with others for some time. When you're meeting up with friends or family, this might be helpful because they can keep tabs on your progress and know when you're coming near.
The simplicity of Glympse is one of its finest qualities. You may share your location with everyone who uses the app without registering for an account or subscribing to anything. You may select who can view your whereabouts and for how long using Glympse's privacy options.
5. Tile
You may locate misplaced objects like your phone, wallet, or keys using the location-tracking software Tile. Connecting a tiny Tile device lets you track your items with the Tile app.
Tile's capacity to ring missing things is one of its strongest capabilities. Since you can use another device to make your phone ring even while on mute, this might be very helpful if you lose your phone. In addition, Tile provides several Tile devices, allowing you to pick the one that best meets your needs.
6. FamiSafe
A location-tracking program made exclusively for parents is called FamiSafe. You may set up geofences to receive notifications when your kid enters or leaves specific regions, follow their whereabouts in real-time, and keep an eye on their online behavior.
The capability of FamiSafe to establish screen time limitations is one of its strongest features. As a result, you have control over how much time your child spends using technology, which may prevent them from spending too much time in front of screens. The panic button function of FamiSafe enables your kid to inform you rapidly if they are in danger.
7. Find My Kids
Locate My Kids is a location-tracking program for parents, much like FamiSafe. You may use it to follow your child's whereabouts, establish geofences, and get alerts when they enter or leave a certain area.
The capability of Locate My Kids to follow your child's travel history is one of its greatest features for Find My Kids App. This enables you to track your child's movements over time and better understand their daily habits. To secure your child's safety, Locate My Kids also provides a voice monitoring tool that enables you to listen in on their surroundings.
8. Waze
Waze is a maritime program that tracks your whereabouts. To assist you in choosing the shortest and most effective route to your destination, it provides real-time traffic updates, accident notifications, and information about road closures.
The community-driven updates on Waze are among its finest features. Users may report traffic problems, road closures, and other incidents, and those reports are shared in real time with other users. Waze also provides voice navigation, allowing you to follow directions while keeping your eyes on the road.
9. Spyzie
Parents who wish to monitor their child's smartphone use might use the location-tracking software Spyzie. You may examine your child's phone log, follow their whereabouts, read their text messages, and keep tabs on their social media activities.
Monitoring major social media applications like Instagram, Snapchat, and WhatsApp is one of Spyzie's greatest capabilities. This implies you can ensure your youngster isn't involved in any questionable internet activities. The keylogger function of Spyzie also lets you view each keystroke made on your child's device.
10. Life360 Driver Protect
An application for drivers that tracks your position is called Life360 Driver Protect. It helps you stay safe on the road by providing real-time GPS monitoring, towing, and collision detection.
The crash detection feature of Life360 Driver Safeguard is one of its strongest features. The app will immediately notify emergency services and provide them with your location if you are in an accident. Life360 Driver Protect also provides driving analysis to see how safe you are driving and where you can improve.
Benefits Of Using Location Tracking Apps:
Apps that track locations have grown in popularity recently and provide users with several advantages. Some of the key advantages of utilizing a location tracker app are listed below: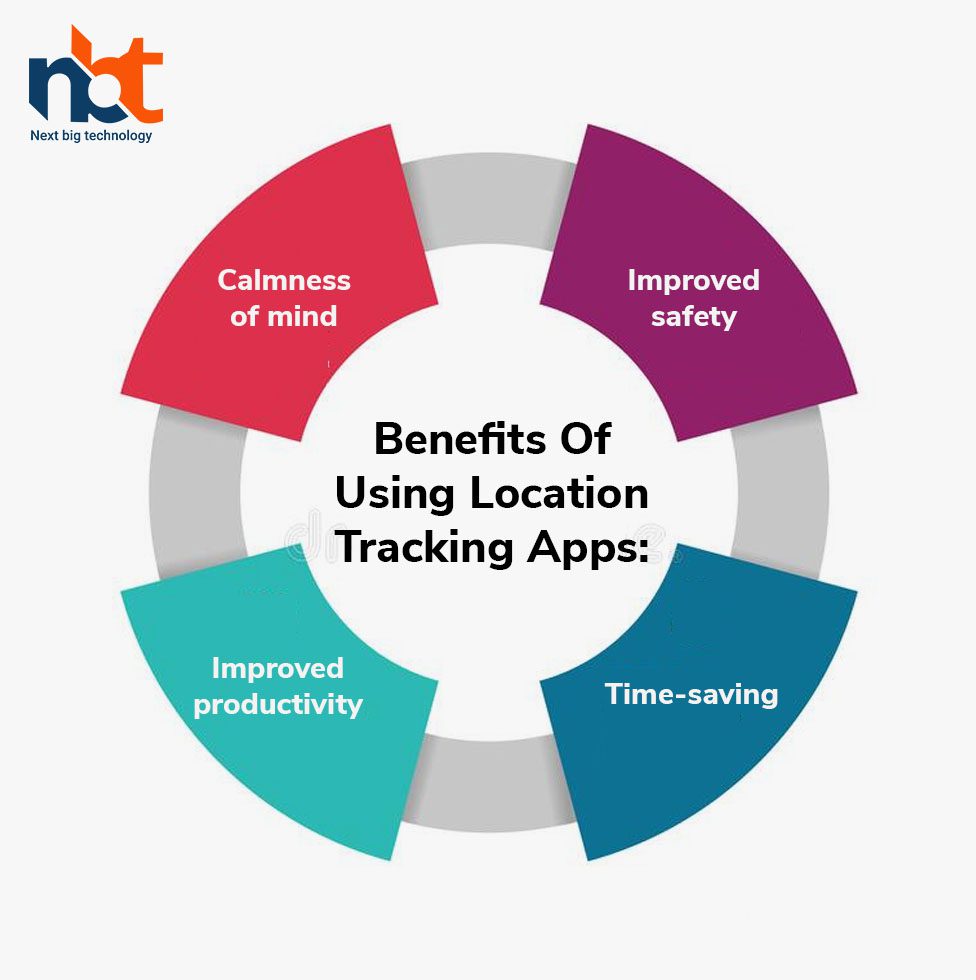 ● Calmness of mind
One of its key advantages is the peace of mind that utilizing a location tracker software may provide. You can make sure that your loved ones and possessions are secure and safe by being able to trace their whereabouts. A location tracker software can provide you the peace of mind you need if you're concerned about your youngster being lost or your pet escaping.
● Improved safety
Apps that track your whereabouts can also increase safety, particularly when driving. Apps like Waze and Life360 Driver Protect provide real-time traffic updates and accident notifications, which may help you select the shortest and safest route to your destination. Crash detection is another feature of Life360 Driver Protect that may immediately alert emergency services in the case of an accident.
● Time-saving
Locator tracker applications also help you save time by making it simple and quick to locate persons or objects that have been lost.
● Improved productivity
Location tracker apps can also improve productivity, especially for business owners. Apps like Hubstaff and TSheets offer time-tracking features, allowing you to monitor your employees' work hours and track their location while on the job. This can help you ensure that your employees are working efficiently and where they're supposed to be.
The technology used in Tracking apps
1. Global Positioning System (GPS)
GPS is a satellite-based navigation system that can pinpoint a person's or object's exact location. The most popular technology in location monitoring applications is GPS since it provides the most precise position data. A person or object's position can be triangulated using a network of satellites via GPS, which can also deliver real-time location updates.
2. Wi-Fi positioning system (WPS)
To pinpoint the location of a device or person, WPS looks at the Wi-Fi access points in the area. In metropolitan regions where GPS signals may be weaker or obstructed by buildings, WPS is frequently employed. Although WPS may give position data within a few meters, GPS offers greater accuracy.
3. Bluetooth Low Energy (BLE)
BLE is a wireless technology that may establish a person or object's proximity. BLE is frequently used in location-tracking applications to track the whereabouts of small items like wallets and keys. Although BLE may pinpoint a location within a few meters, it is not as precise as GPS or WPS.
4. Cell tower triangulation
To pinpoint the location of a device or person, cell tower triangulation uses the positions of adjacent cell towers. When GPS and other location technologies are not accessible, such as in rural locations or while a device is indoors, this technique is frequently employed. Although cell tower triangulation may pinpoint a location within a few hundred meters, GPS or WPS are more precise.
5. Assisted GPS (A-GPS)
A-GPS integrates GPS with other location technologies to give more precise location data, including Wi-Fi and cell tower triangulation. When GPS signals are weak or obstructed, such as within buildings or in densely populated regions, A-GPS can aid in increasing position accuracy.
6. Inertial navigation
Inertial navigation tracks the motion of a thing or a person using sensors like accelerometers and gyroscopes. This technology, frequently included in navigation apps, can assist in delivering precise position data even when GPS signals are poor or obstructed.
Conclusion
Our everyday lives have grown completely dependent on location-tracking applications because they provide ease, safety, and peace of mind. There is a location tracking software that can match your demands, whether you're trying to keep tabs on your family, locate misplaced belongings, or remain safe while driving.
The applications in the above list are some of the top location-tracking apps in 2023, with a range of capabilities that can improve your quality of life. Location tracking, however, can pose privacy issues, so it's crucial to use these applications properly and with the people you are tracking.
Thanks for reading our post "Best Location Tracking Apps in 2023". Please connect with us for any further query regarding Location Tracking Apps.