Introduction
Online dating has become a trend in today's world with innumerable dating apps available in the market. However, there are only few apps specifically designed or curated for the people belonging to LGBTQ+ community. These apps make them feel belonged and helps in the growth and awareness of their community.
It has been observed that the members of LGBTQ+ community are twice more likely to choose online dating apps than those who does not belong to the community. It might be because of hesitation, or the fear that the people around them will not understand their point of view, or other insecure thoughts. This is why the need for developing dating apps specially designed for those who belong to the community to provide them a safe space to share their ideas freely.
However, only few of such apps fulfil the needs of LGBTQ+ community. We have analyzed many apps and have listed below the best apps for the community:
8 Best LGBTQ Dating Apps
| | | | | |
| --- | --- | --- | --- | --- |
| Sr. No. | Apps | Downloads | Android Ratings | iOS Ratings |
| 1 | Grindr | 5 Cr+ | 3.8 | 4.6 |
| 2 | Chappy / Bumble | 5 Cr+ | 4.1 | 4.3 |
| 3 | Hornet | 1 Cr+ | 3.1 | 3.9 |
| 4 | Blued | 1 Cr+ | 4.3 | 3.7 |
| 5 | Scruff | 50 L+ | 3.6 | 4.5 |
| 6 | Planet Romeo | 50 L+ | 4.0 | 4.4 |
| 7 | GROWLr | 10 L+ | 3.5 | 4.3 |
| 8 | Her | 10 L+ | 3.7 | 4.4 |
Grindr is one of the leading dating app for gays, bi, trans, and queers all around the world. Though it provides platforms for all the people of LGBTQ community, the majority of its users are gay. It allows you to chat with other people who may be as close as a few feet away. It helps you in meeting people instantly using advanced geological features.
You can share as much or little about yourself as you like. You can chat and share private photos, create private albums to share or unshare multiple photos at once, star your favourite swipes or the swipes you like but are unsure about at the time, block or report others easily and safely, add, search, and filter out the tags of interests, etc.
With Grindr XTRA you can have more fun with removal of third party ads, ability to see 600 profiles at once, ability to opt for viewing only those profiles who are online at the same time or only those profiles which have photos.
Grindr also provides 'Grindr Unlimited' which helps you in browsing profiles in incognito mode, ability to see unlimited profiles, full access to the 'Viewed Me' list, and the ability to unsend messages or photos along with the features of Grindr XTRA.
Grindr has integrated a feature which lets you see someone else's or upload your HIV status and access information about various sexually transmitted diseases, making it a platform which raises awareness about such issues.
Chappy was an online dating app for gay community which was later on joined with Bumble.
Bumble breaks the traditional practice of 'Males should be the first one to talk' by letting women make the first move. This is a step towards women empowerment. However, this is only for heterosexual matches, for other matches either of the person has to make the first move within the prescribed time.
With Bumble Premium, you can see who swiped you right and rematch with the expired connections as a second chance at dating. Besides Bumble Premium, it offers various other plans namely, Bumble Boost, Bumble Spotlight, and Bumble SuperSwipe.
Hornet is another dating apps for gays with over 35 milion gay guys connected with each other through this platform. It lets you enjoy the experience whether you are looking for a casual meetup or a lifelong relationship.
You can share posts of your favourite moments or short videos of your interests or life on your profile which will help others understand you and click with you in a better manner. Browse the feed to see what is happening around the gay world or watch short videos of your community members. You can explore the word with the 'Virtual Travel' feature.
Hornet has huge collection of in-app articles. The main motto of the app is to promote usage of community platforms and inculcate a feeling of belongingness among the queer men.
Also Read : What's Holding Back the How Does The Dating Site Tinder Work Industry?
Blued is one of the best player in the market of online dating apps for LGBTQ+ community. You get access to live entertaining contents from numerous hot men all around the world. You can join them in their live broadcast publicly or in private. Blued works like a social media app where you can like, comment, and share the posts or contents you like.
No matter your type – bi, trans, or twink, Blued is the one for all of you! Looking for a casual chat or a date or the one? Just reach out to any of the cute or hot guys you like. You can dance, sing, workout, or just chill with the community using the online streaming option.
For your safety, you can enable the disappearing messages option, create a private photo album, or live stream privately. Its premium version offers you the option to hide your distance, your online status, the read receipts. You can even visit profiles of the people without a trace. You can enjoy the experience without any annoying adds. It further allow you the access to advance search options and features which lets you customize your feed, i.e., you choose who can see you and who you want to see in your feed.
Scruff appeared in the market after Grindr but before Tinder has become the second most popular gay dating app. This app would be a better option if you identify yourself as an otter, bear, cub, or wolf. Though it is famous as a hookup app, it is more than just that. The app offers you a travel feature through which you can easily plan meet ups with the guys around you. There are around 30+ million people with who you can chat, video call, share pictures, and do much more.
You will never see any banner ads while using the app as Scruff believes in providing top quality experience to its users. The support community is available 24/7 and all the profiles are verified. You can sync your data across your devices and be relaxed since the data is saved and is not cleared unless you approve. You can use the 'Ask Later' feature when you are not sure about the person whose profile you are checking out.
Scruff Explore is the premium version of Scruff which lets you browse through the LGBTQ parties, events, meetups, and festivals around the globe, and chat with the local members if you are planning to travel somewhere.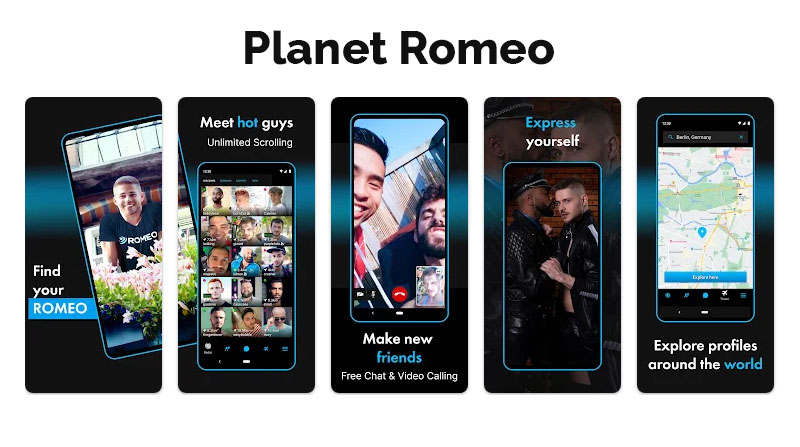 Planet Romeo offers you a platform to find hot hookups as well as your 'the one'. However the majority of the users use it to find their perfect hookups.
Romeo offers you the ability to scroll through unlimited profiles, have unlimited chats with multiple people, have unlimited video calls, access to search options, hide your location or GPS position, and the ability to share your private photos for a limited time period all for free!
With Romeo PLUS you can hide the profile visits so that others cannot see if you are checking them out or not, you get the ability to use the 'appear offline' option, you can save unlimited profiles, access advanced search options, see the list of your visitors from the last 7 days, appear in your travel destination two weeks prior, and access to many more functions.
Also Read : Everything About Dating App Development: Cost & Features Highlighted
Do you identify yourself as a gay bear? If yes, this dating app is the best for you! GROWLr is the ultimate app for bears and bear chasers. Just like other gay dating apps, you can have video chat, and share private messages and photos with those you like. GROWLr allows 18+ men to share their nudes with other bears who are interested in them.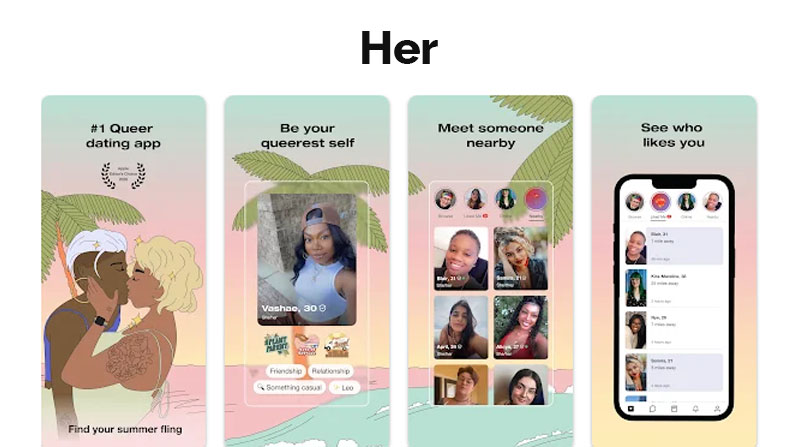 Her lets you be a part of a kind and friendly community of queers, lesbian, bi-sexual, and non-binary people. With such a community, you can share your thoughts with other like-minded people without any hesitation.
Her provides a safe dating platform with access to around 30+ LGBTQIA2S+ communities for free! The apps' premium features let you go incognito, i.e., nobody can see you until you like their profile along with other features such as ads free experience and advanced search filters.
Also Read : Top Dating App like Tinder in 2023
Conclusion
Finding the perfect platform for finding the perfect hookup or date or long-life partner can be tiresome. However, it is not impossible; you can use the above-mentioned list as per your needs and try a few of them out to know if it suits you or not.
Are you planning on developing one of the best LGBTQ+ dating app? If yes, then you are at the right place. Our specialized software development team develops Android and iOS apps using advanced tools and technologies. Reach out to us and we will help you in curating your dreams into reality.
Thanks for reading our post "Best LGPT Dating Apps For 2023". Please connect with us to know more about LFPT Dating App Development.