TikTok has become a craze among young people who enjoy making and sharing videos on the internet. It is one of the most widely used video-sharing services, allowing users to upload both video and film. Users may edit their clips in a stunning and quick manner thanks to the app's numerous filters and editing effects.
TikTok is an excellent platform for showcasing talents and disseminating information to a large audience. In the settings, users can save all of their films. Next Big Technology can create an app that is similar to TikTok. However, it's critical to think about the most important aspects first. You can start by creating an MVP with a few basic functions and then add unique and complex features later. Our developers can create a minimum viable product (MVP) and assist you in resolving any technological issues.
The development of a TikTok-like app takes a long time and costs a lot of money. As a result, you may create an app with a few simple features and launch it right away. The MVP app version lets the target audience to provide feedback and decide which features to add later.
TikTok-like App Features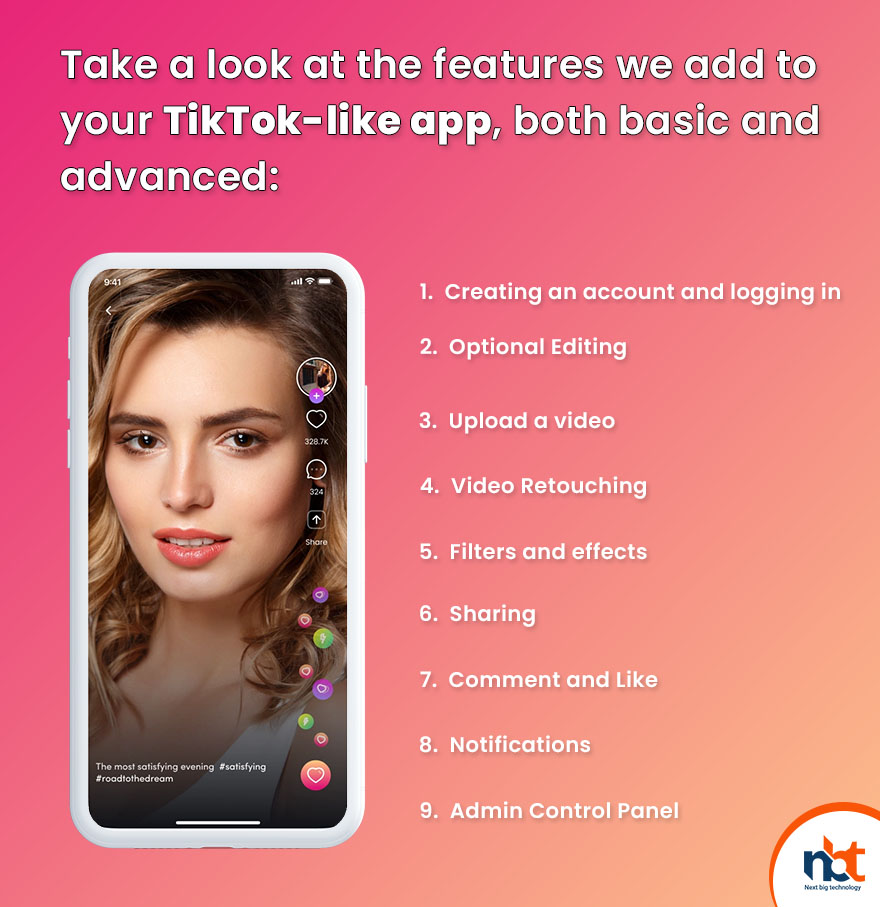 Sign In/Sign Up

Top post anything, users must first create an account and log in. You should provide many sign-up and login choices, such as phone number, email address, and social media.
Also Read : Cost and Features to Develop a Mobile App like TikTok/Likee/Vigo Video
Profile Management

Allow your users to modify and edit their profiles. They have the ability to edit profiles, create usernames, and upload photos, bios, and other credentials.
Video Uploading

You must provide users with a simple way to upload videos in order to make your TikTok-like app popular. Make it simple to upload and share videos in your app.
Video Editing
Users should be able to edit videos in your app in addition to uploading them. Add basic controls like speeding up, flipping, and turning on 'beauty' mode.
Filters and Effects
You can apply multiple effects and filters to your movies when we construct your app. As a result, we include functionality and custom filters that allow your users to do the same.
Social Sharing
Users can share their posts on other social media sites such as Twitter and Facebook using your app. It also allows users to link to other social networking accounts via profiles.
Comments and Like
On the Ticktock-similar platform, all users can like and comment on videos they see. They can go to various tabs to see the "liked" posts.
Push Notifications
Our app developers provide a "push notification" feature to alert users to likes, comments, and other updates on videos. Notifications are generally implemented via Google Cloud Messaging (Android) and Apple Push Notification Service (iOS).
Backend Panel

The admin panel includes features such as user administration, such as the ability to delete, amend, or block people. Furthermore, the software assists in counting certain individuals' postings, providing information about new members, and much more.
Advance Features of  TikTok-like App Development

View Videos

Before signing up for TikTok, you can check out some of the most popular videos. As a result, new people will be able to view the content. To like or comment on posts, users must first join up.
Location-Centric Content
The development of TikTok-like apps focuses on an advanced function, namely location-based content, which assists users in locating their devices. The app shows you the stuff that other users have placed in your exact location. Users can also add their current location to videos.
Video Filters

Because AR filters are becoming increasingly popular, you should incorporate them into your TikTok-like software. We can create a fantastic augmented reality library. If you include this function in your software, it will almost certainly become popular.
Face Recognition

We may include a multitude of advanced features in your TikTok-like software. To make a difference in your product, our engineers put a lot of emphasis on MVP development.
Real Time Video Streaming
This functionality is no longer available on TikTok. Though most social video apps include a function that allows users to record a live video and communicate with their followers.
Real-Time Analytics

You may examine the broadcasters and loving watchers on the graph using the real-time analytics tool in your TikTok-like app. It also provides information on the number of likes and comments.
How to Create a TikTok-like App
Hire specialized developers from us to construct an app like TikTok, and keep in mind the tech stack of your future product. You get high-quality service at an inexpensive price when you engage our skilled app developer on a temporary basis (daily, weekly, or monthly basis).
How much does it cost to create a TikTok-like app?
The cost of developing a TikTok-like app varies according on the company. When you hire us, you get a reasonable hourly charge for the service. To create an app like TikTok, we use a range of cutting-edge technology.
Select a programming language for native app development, such as Kotlin (Android) or Swift (iOS) (iOS). We can successfully employ Flutter for app development if you desire cross-platform development.
Also Read : Everything You Need to Know About The Zoom Like App Development!
What Factors Influence the Final Price of Your TikTok-Style App?
When creating an app like TikTok, you must consider a number of aspects that influence the final cost.
Here they are:
Platform
Android and iOS are the two most popular platforms, as we all know. You should have an app that functions well on each of these platforms to broaden your customer base.
Choose a platform based on the interests and preferences of your target clients if you have a limited budget. Did you know that Instagram was first released on Apple's iOS platform? It was built on the Android version after a year and a half.
Because more devices run on the latter platform, iOS app development takes 20% to 30% more time than Android app development. As a result, it's critical to provide additional compatibility for various OS versions and screen resolutions.
Features
Prepare a list of key characteristics before designing an app like TikTok. The features and their complexities are the most important aspects of an app development cost. It takes longer to develop advanced features for your TikTok-like software.
Design
Because app creation is difficult, it takes more time and money. These days, users have high expectations of apps. You should create a user-friendly and intuitive UI/UX design that will attract new users and help you gain their loyalty.
TikTok-Style App Development Services

TikTok is a very popular app. If you provide the best features and functionalities to your software, it will become more popular. We have a team of devoted, skilled, and efficient developers who can help you!
So, what do you have to lose? Get in touch with us if you need to hire a developer to complete your project.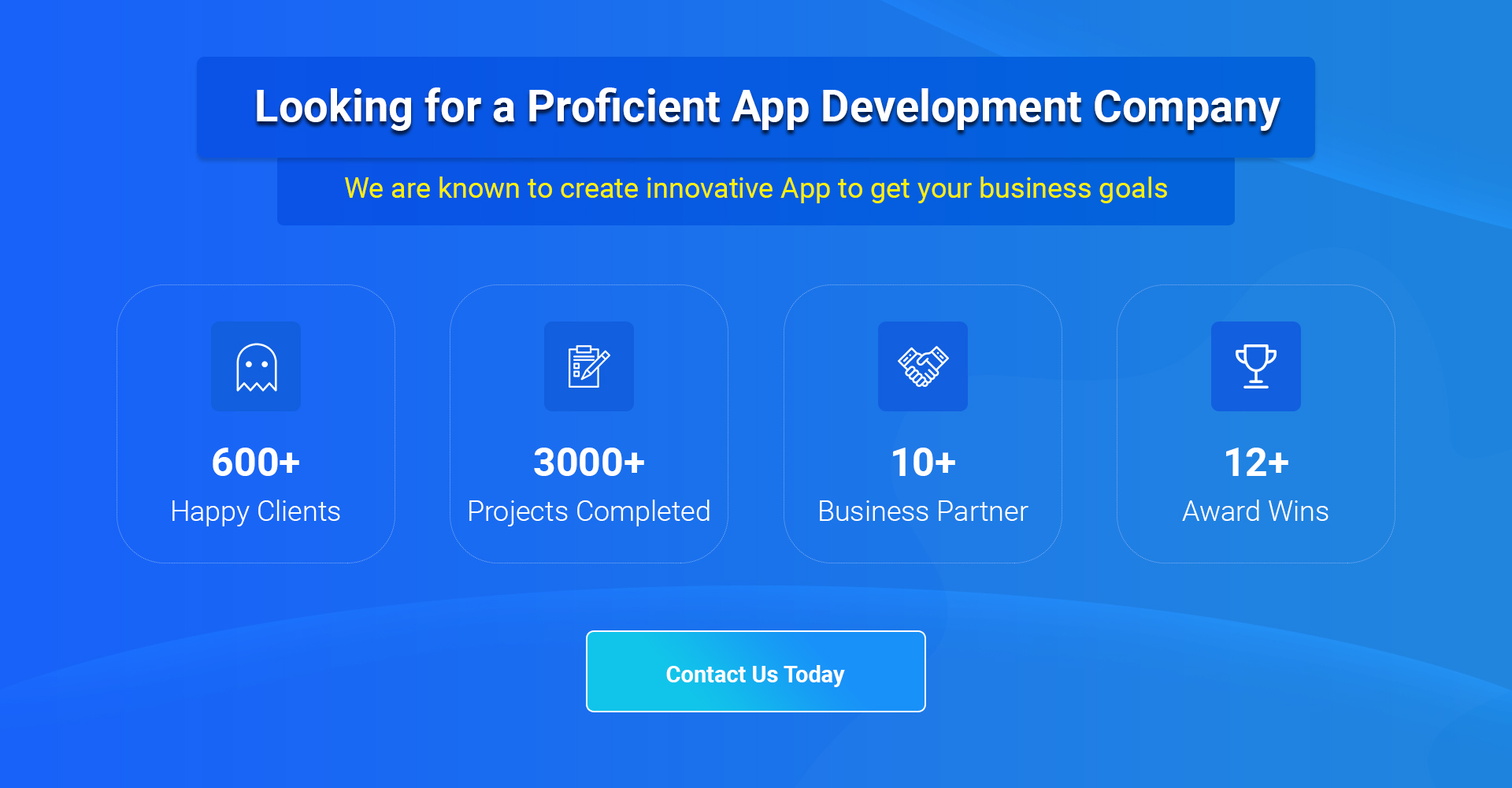 Thanks for reading our post "Tik Tok-like App Development", please connect with us for any further inquiry. We are Next Big Technology, a leading web & Mobile Application Development Company. We build high-quality applications to full fill all your business needs.