Cloning popular apps and websites has become a common practice in the tech industry. Developing a clone allows you to replicate the core functionalities and features of a successful platform, tailored to your unique vision. If you're considering creating a clone, understanding the costs, features, and development process is essential. This guide offers insights into the process of developing clones for various apps or websites.
The Concept of Cloning
Cloning Defined: Cloning involves recreating the functionality and design of an existing app or website.
Why Clone?: Cloning can provide a shortcut to launching a product with proven demand while adding your unique twist.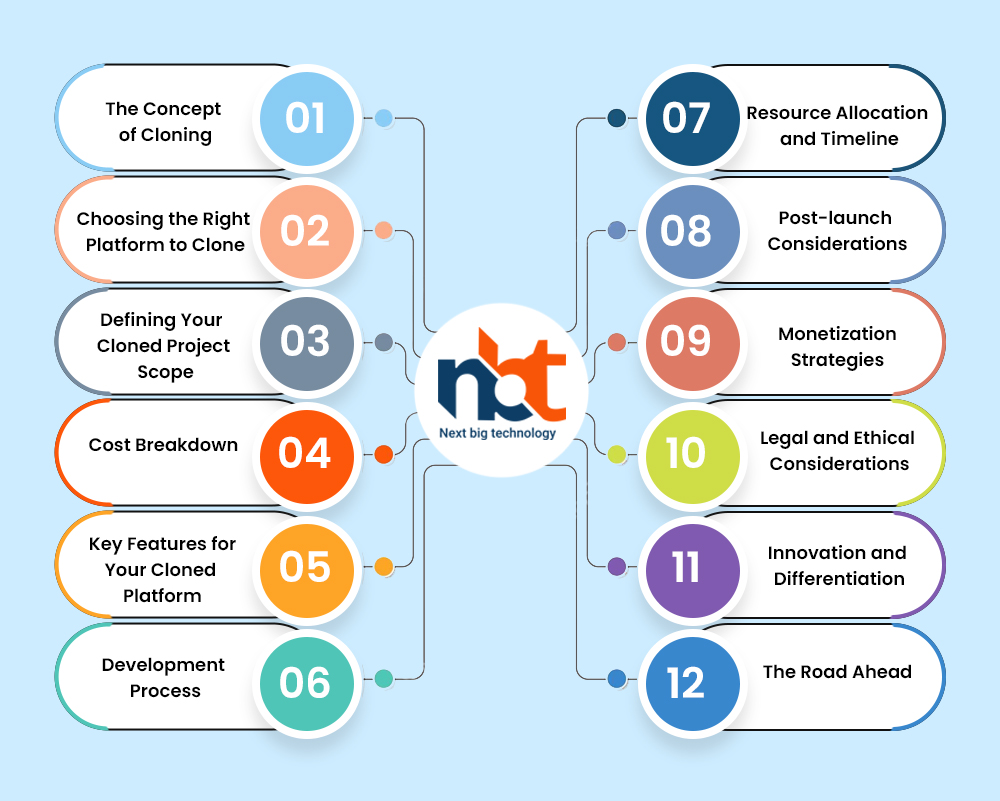 Choosing the Right Platform to Clone
Market Research: Identify popular apps or websites in your target industry with a large user base.
Selecting a Niche: Consider whether you want to clone a social media app, e-commerce website, on-demand service, or any other platform.
Defining Your Cloned Project Scope
Identify Core Features: Determine the essential features you want to clone and any additional functionalities you wish to add.
UI/UX Improvements: Decide whether you want to enhance the user interface and user experience compared to the original platform.
Cost Breakdown
a. Development Costs
Frontend Development: Design and implement the user interface, user flows, and features.
Backend Development: Set up databases, user authentication, and integrate APIs for third-party services.
Admin Dashboard: Develop an admin panel for managing users, content, and data.
b. Third-party Integrations
Payment Gateways: Integrate payment gateways for transactions and subscriptions.
Social Media Integration: Allow users to log in using their social media accounts.
Maps and Geolocation: Integrate map services for location-based features.
c. Testing and Quality Assurance
Functionality Testing: Ensure all features work as intended.
Performance Testing: Assess app speed, responsiveness, and scalability.
Security Testing: Identify vulnerabilities and implement necessary security measures.
Key Features for Your Cloned Platform
a. User Registration and Profiles
User Authentication: Allow users to sign up, log in, and manage their profiles.
User-generated Content: Enable users to create and share content.
b. Content Discovery and Feeds
Personalized Feeds: Provide users with content tailored to their preferences.
Recommendation Algorithms: Implement algorithms to suggest content based on user behavior.
c. Messaging and Communication
Real-time Messaging: Enable users to communicate through chat or messaging features.
Group Chats: Allow users to create and join group conversations.
d. Notifications and Alerts
Push Notifications: Notify users about updates, new content, and interactions.
Email Alerts: Send email notifications for important events.
e. Search and Filters
Advanced Search: Allow users to search for content using various filters and criteria.
Sorting Options: Provide options to sort search results by relevance, date, popularity, etc.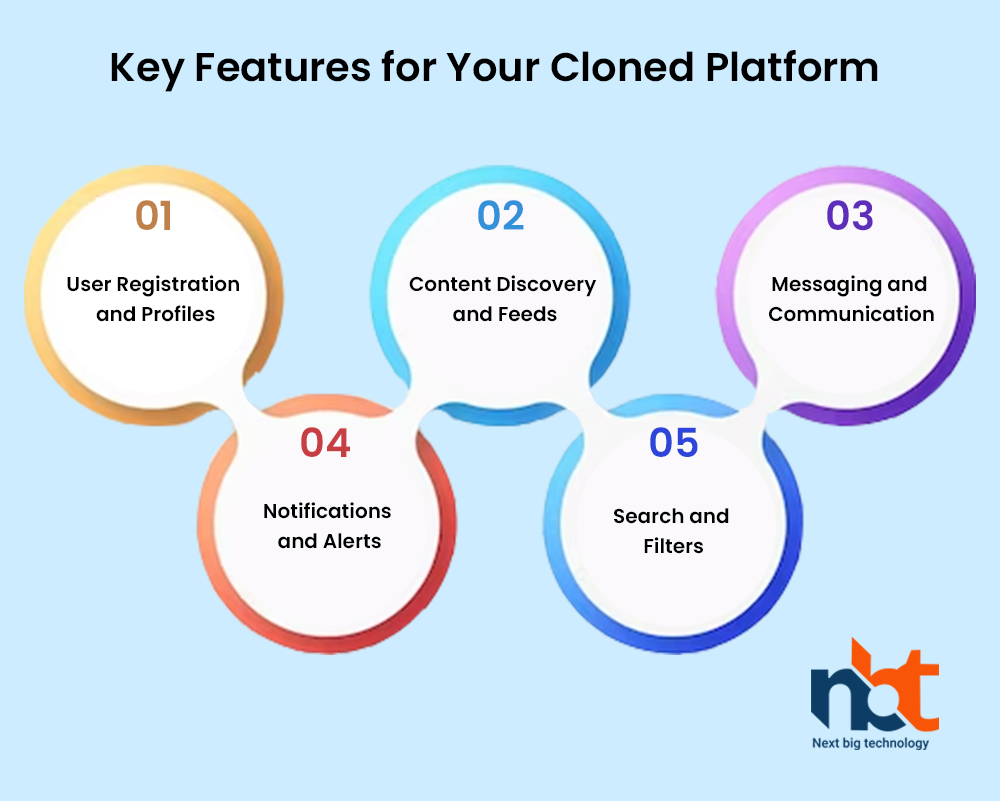 Development Process
a. Requirement Analysis
Gather Requirements: Understand your project's objectives, target audience, and desired features.
b. Design and Prototyping
UI/UX Design: Create visually appealing designs and intuitive user interfaces.
Wireframing and Prototyping: Develop wireframes and interactive prototypes to visualize user flows.
c. Frontend and Backend Development
Frontend: Implement the user interface using HTML, CSS, JavaScript, and frontend frameworks.
Backend: Develop the server-side logic using languages like Python, Ruby, or Node.js.
d. Integration and Testing
API Integrations: Integrate third-party APIs for payment, social media, maps, and more.
Testing Phases: Conduct rigorous testing, including functional, performance, and security testing.
e. Deployment and Launch
Server Setup: Host the app or website on servers or cloud platforms.
Release: Launch the platform for users to access and interact with.
Resource Allocation and Timeline
Developers: Frontend, backend, and mobile app developers.
Designers: UI/UX designers for appealing and user-centric designs.
Quality Assurance: QA engineers for testing and bug fixing.
Project Manager: Oversees development stages and resource coordination.
Post-launch Considerations
Ongoing Maintenance: Regularly update the platform to fix bugs and introduce new features.
User Feedback: Collect user feedback to enhance user experience and address issues.
Monetization Strategies
Freemium Model: Offer basic features for free and charge for premium features.
Subscription Plans: Provide subscription tiers with varying levels of access.
In-app Purchases: Allow users to purchase virtual goods or enhancements.
Legal and Ethical Considerations
Copyright and Trademarks: Avoid infringing on intellectual property rights of the original platform.
Data Privacy: Comply with data protection regulations to safeguard user data.
Innovation and Differentiation
Adding Unique Features: Consider adding new features or improvements to distinguish your clone.
Enhancing UX: Prioritize user experience to create a more engaging platform.
The Road Ahead
Developing a clone requires a clear vision, technical proficiency, and adherence to legal and ethical guidelines. By comprehending the development process, estimating costs, and identifying essential features, you can create a clone that offers a familiar experience with a touch of innovation.
Developing a clone for an app or website provides an opportunity to leverage successful concepts while adding your unique value. By following the steps outlined in this guide, you can create a platform that resonates with users and caters to specific niches. Remember, a well-executed clone can combine familiarity with novelty, providing users with an enjoyable and engaging experience.