Have you ever missed out on a fabulous local event because you found out about it too late? Are you new in town and interested in getting involved in the community? Or do you simply crave more social interaction and want to expand your circle? It can sometimes be difficult to find out what's happening in your area, whether you're visiting a new city or feeling bored at home on a weekend. Typically, individuals discover exciting events through either personal recommendations or by being dedicated online supporters, followers, or subscribers of the event organizers. In today's technologically advanced world, where people are constantly linked through social media, email, and messaging services, it is reasonable to seek an easy way of discovering nearby happenings. Numerous event discovery applications can be found on digital marketplaces that facilitate the search for enjoyable activities, spontaneous music performances, and nearby hotspots ideal for creating memorable moments with loved ones. In addition to their primary functions, certain apps also offer the capability to purchase tickets for concerts and other events through the app itself. To begin, it's as easy as downloading the app and taking the plunge. Let's not procrastinate any further and explore our specially selected compilation of top-notch event-locating apps.
Best Event Finder Apps
Eventbrite is awesome! It is super user-friendly and doesn't make you feel like you need a degree in rocket science to figure it out, unlike Ticketek and other ticketing platforms. It is a stress-free experience for customers, which is always a plus. The platform is super simple and easy to use, whether you are an organizer or an attendee. Plus, it syncs up with your calendar and emails automatically, so you never have to worry about missing out on any upcoming events. Creating and managing events is a breeze, with all the basic information organized in a structured way. And the cool thing is you can even check out past events you've created, which can be really insightful for further planning. You can also create different profiles within one account, which is helpful if you are managing multiple organizations. You can follow your favorite organizations and get notifications on new events they are hosting. And the best part? Eventbrite streams videos in high quality and allows real-time chatting with other attendees during the event. The advanced search option is top-notch, allowing you to find events in your specific area of interest. Trust us, using Eventbrite for your events is a no-brainer. You can even set up recurring events, which is a huge time-saver. It is perfect for networking and connecting with like-minded people.
Also Read : What are the different features and cost involved in Eventbrite Clone Application Development?
StubHub is a good alternative to Ticketmaster if you like the idea of purchasing tickets for larger events through a single app. You can look at what's happening by location or by category, such as sports, theatre, or music. Like Ticketmaster, you can witness all occasion subtleties, check the seating map, view ticket costs, and make a buy. StubHub ticket prices may be lower or higher than the face value. The app acts as a marketplace for ticket sales and purchases to concerts and other events. The price alert feature is available to you if you log in or create a free account. StubHub backs each request, so individuals can purchase tickets with 100 percent certainty. A 360-degree view of venues is another useful feature. It makes ticket selection simpler. Even though you won't be able to find smaller events like parades or festivals, the app is worth a look if you prefer to go big.
If you want an overview of everything that's happening in your city right now, browsing the All Events in City app is a great way to do it. From sports and the arts to seminars and workshops, you can find the right opportunity for you. It is an essential mobile application for digital nomads. Enter your current city to get started, then browse events listed by category. You can tap to see all events in a category, like Entertainment or Upcoming, and then narrow your results by subcategories like Concerts or Comedy. All city events provide you with dates, times, and locations as well as descriptions, maps, and ticket links. What's great about this app is the ability to tag if you're attending, contact the organizer, add it to your calendar, see where your friends are going, and share events you're going to attend with your friends – all from one place.
Are you someone who loves hanging out with your buddies and attending social events? Need a perfect spot to throw a memorable bash with your gang? Well, look no further than PartyShark! This amazing app makes organizing your own events or finding public celebrations that match your interests a cakewalk. PartyShark caters to a diverse group of individuals, ensuring that its offerings suit a wide range of people. With this program, you can effortlessly discover nearby events, socialize with new people, engage in exciting activities, and create unforgettable experiences. PartyShark offers an exceptional opportunity not only to attend fantastic parties but also to play the role of a party planner and sell tickets for public events. You can customize your celebrations according to your preferences with the app and even choose to work positions for events or festivities. For those looking to expand their social circle, we highly recommend PartyShark. The app's interface is straightforward and user-friendly, making it easy to navigate. So why not give it a try today?
Currently, 10 Times is arguably one of the most powerful event platforms out there. The 10 Times app is a reliable tool to enhance your experience at various exciting events including fairs, exhibitions, trade shows, and farmers markets. It offers a comprehensive catalogue of global events, including virtual and real gatherings, covering a wide variety of categories and interests, amounting to more than 100,000 listings. You have the ability to interact and chat with other attendees, easily participate in real-time activities, and enjoy many other features. While it may lack the luxurious features of other event finder apps, it effectively provides you with essential information for events in your vicinity. Create a free account, choose your interests, and find out about upcoming events. Available tabs allow you to check options scheduled for the future, picks that are near, or choices that are currently popular. The app displays complete information about the event organizer's date, time, description, and contact details. People can set reminders, send invitations, and indicate their intention to join. In addition to its primary functionality, 10 Times has the added benefit of allowing you to locate local establishments.
Unation is an app for event creators and event enthusiasts that runs on both iOS and Android. Event enthusiasts can easily find events happening near them, network with friends, and discover new places. Event organizers can directly create new listings, sell tickets via the application, and promote their events within the network with the help of promotions -experts. Both private and public events are supported, and when it comes to promoting your event, you can target specific people based on the filters you set. You can use staff picks, recently added content, interest, location, date, or author filters to narrow your options. If you're just looking for fashion, family, or fitness events, tap to find them quickly. Then you can check the date, time, location, and description, and see who else is attending. By tagging people you want to go to, you can easily meet up with friends who are using the same union. If you need tickets for your event, you can check prices and order them directly on the app.
If sports are your first choice for a local event, Gametime is a great option. Even though the app supports all types of events, sports games are its primary focus. The app focuses on assisting customers in purchasing tickets at the last minute. The price of tickets goes down as the game or performance gets closer. Gametime enables you to take advantage of these price reductions and provides you with the best ticket at the most affordable price. If you don't mind missing the beginning, you can even purchase tickets at extremely low prices up until 90 minutes prior to the start time. Additionally, Gametime has an excellent return policy.
Bandsintown is a platform that every music enthusiast must be aware of and acquainted with. It is an application that enables users to discover live concerts, in case you are not yet familiar with it. It bridges the gap between artists and their supporters. Numerous solo artists and musical groups showcase their performances on this platform. This platform is favored by big names such as Maroon 5, Paramore, Taylor Swift, and The Chainsmokers for their concerts. This application streamlines the process of finding concerts by permitting users to monitor their preferred musicians. By accessing the internet, you can acquire tickets digitally, confirm your attendance to an occasion, monitor your preferred performers, receive notifications if your favored artist is holding a concert in your area, and approach them with a request to visit your location. By utilizing this event discovery application, you can automatically scan your music collection and identify the performers that interest you. The app will then inform you when they have upcoming shows scheduled nearby. Effortlessly receive alerts for your preferred events, access comprehensive schedules for concerts happening in various locations, and conveniently purchase tickets from nearly any ticketing platform via the application. It connects seamlessly with Apple Music, Soundcloud, and Spotify profiles to monitor preferred musicians and provide notifications regarding their upcoming local performances.
Heard of Vivid Seats yet? It's a remarkable mobile application that enables you to purchase tickets for a multitude of forthcoming events within your vicinity. Similar to Ticketmaster and StubHub, the platform offers a wide array of events ranging from concerts and sports matches to theatrical productions. The app offers an extensive collection of local as well as national events, thus making it convenient for you to find an event that matches your interests. Select your city and state, then begin your search! You are able to further refine your search by event type, date, or time period. Furthermore, they possess a fascinating characteristic labelled as Distinctive Seats that provide exclusive seating alternatives which are unparalleled elsewhere. If cashback or reward points are of interest to you, Vivid Seats offers a solution. You will receive a rebate on your purchase, which is quite attractive. Irrespective of your buying requirements, this app provides an excellent platform for a rewarding purchase experience along with helpful assistance. This app may not contain extensive information like other applications, but it is undoubtedly worth exploring.
If you're looking for an app to snag concert tickets, Ticketmaster is the way to go. They partner up with some big names like the NFL, NBA, NHL, and USTA, so you know they're legit. You can find millions of events there, and the process is simple and straightforward. Ticketmaster is especially great for sports games, theatre shows, and live music events. All you have to do is pick your event, buy your tickets and boom – you're all set for a good time. And if you're using the app, you can easily log into your account. They give you all the deets you need like dates, times, locations, parking, and a map. Plus, you can check out seating and ticket prices before you make your purchase. The best part? Ticketmaster's got your back if you need to cancel or refund your tickets. So, go ahead and give it a try!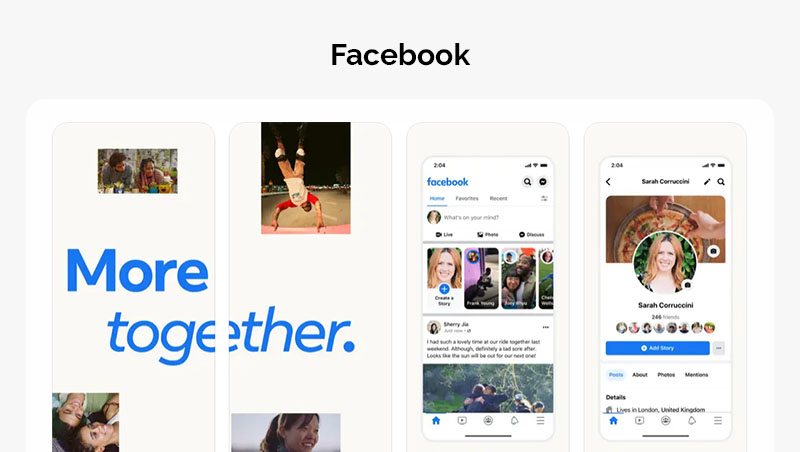 Nowadays, Facebook has become ubiquitous, and its Events functionality has been available since the social media platform's inception. Presently, it remains one of the most effective means of discovering current events in your nearby vicinity. We're no strangers to the tales of Facebook events spiralling out of hand, with birthday celebrations and comparable occasions drawing in thousands of attendees. The stories themselves demonstrate the proficiency of Facebook in discovering local events. Although you may not personally utilize Facebook frequently, it is crucial to keep in mind that numerous establishments, corporations, and social organizations in your locality uphold an active presence on the platform. It is quite regular for them to provide discounts and promotions to individuals who mention a specific post. Facebook offers a comprehensive event application that includes maps, attendee lists, and tools for managing events.
Also Read : Cost Effective Event Booking Application on a Budget: Our Best Money-Saving Tips
Conclusion
Sometimes, going to the nearby bar doesn't quite cut it. Luckily, there are apps that cater to your local entertainment needs no matter how big or small the event. Finding events that suit your taste can be a challenge, but fear not, there are tons of options available online. This blog might have helped you answer questions like 'How do I find events near me?' and 'What are the upcoming events near me?' With these apps, you can find some local fun for a night out. With this above list of top event finder apps, you can start exploring the events around you. So, go ahead and check them out. We promise they won't disappoint you. Further, if you own any app and want it to be listed here in our blogs, you can contact us.
Thanks for reading our post "Best Event Finder Apps 2023". Please connect with us to know more about Event Finder App Development.