Develop scalable, lightweight, and intuitive web and mobile apps.
Ready to develop an Angular application for your business? Next Big Technology App Development Company is best at what it does. Enjoy robust and secure app solutions with the pool of Top AngularJS Developers. Our experts follow the best development practices to develop single-page and cross-platform applications with user-friendly features and responsive UI designs. We are well-versed with the updated features and add-ons that focus on your current business needs. Streamline AngularJS application development. It is a structured client-side JavaScript MVC framework that helps you build dynamic apps.
Top AngularJS Development Agency offers excellent functionality with a broad range of features that helps to achieve high speed to market. Moreover, it comes up with ready-made components that help in project scaling. Thus, it is an ideal choice for enterprise applications. NBT creates highly functional Angular applications that are excellent in terms of scalability, adaptability, stability, and security.
Also Read : List Of Latest AngularJS Development Tools That You Need to Know
What do we offer?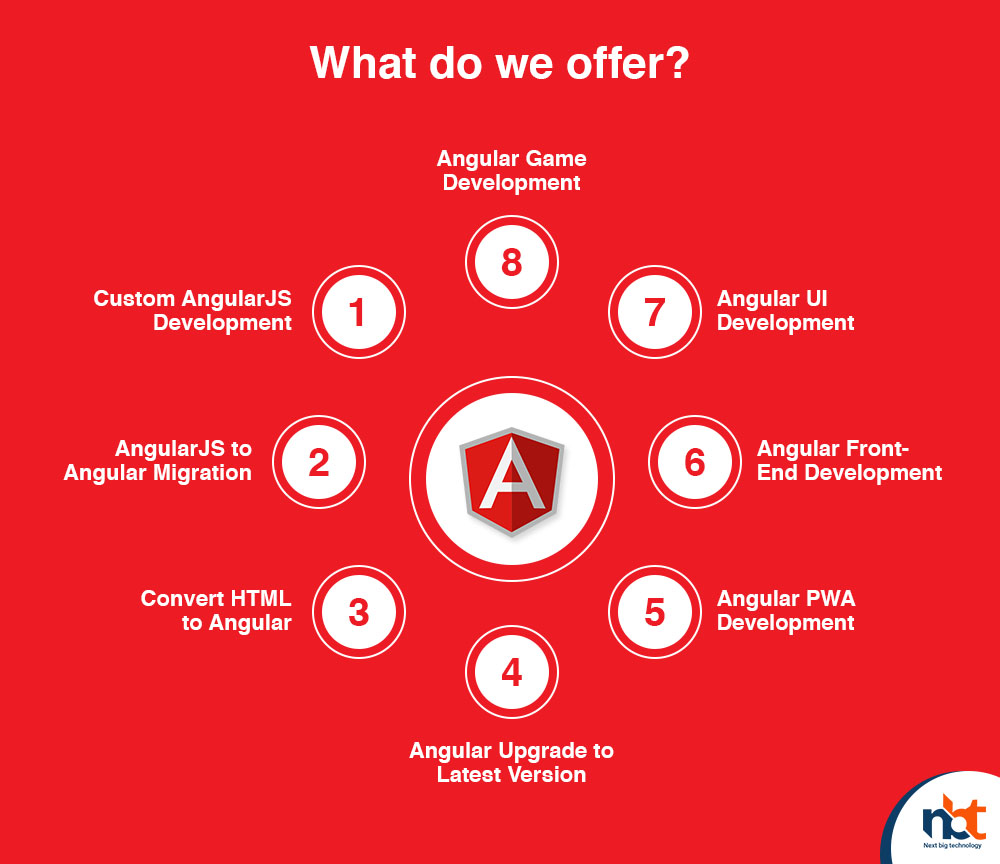 Custom AngularJS Development
Every business has unique and individual needs. Hire AngularJS Developers from NBT, as they are flexible and provides custom top AngularJS Development Services. Associating with a Development partner, we help you get scalable and flexible Angular application development solutions.
AngularJS to Angular Migration
We offer risk–free Angular migration services to ensure your business won't get affected if you wish to migrate your entire AngularJS project to Angular2+ or higher version.
Convert HTML to Angular
Create Angular App using Angular CLI and get a faster and elegant user interface for your web app. It helps you convert a simple HTML template into Angular that offers the maximum speed possible on Web applications.
Angular Upgrade to Latest Version
Partner with us to get easy shifting of your Angular project from AngularJS or Angular2+ to Angular latest version and further enjoy a boost in performance and security.
Angular PWA Development
Progressive Web Applications are essential to provide an impressive and immersive mobile-friendly user experience to the users. We at Next Big Technology have various experiences and skills in Angular PWA development to match your requirements.
Angular Front-End Development
Design and develop an interactive, flexible, responsive, and functional frontend of your website and application.
Angular UI Development
NBT holds a proven track record of designing & developing highly practical UI Interfaces ofMobile Application Development Company. AngularJS.
Angular Game Development
Our team of experts will help you create slow event loop games for your business. Angular JS is the best solution for this.
WHY CHOOSE US?
Being a popular AngularJS Web development company, Next Big Technology is recognized for serving modern business needs and delivering the best-in-class solutions at a competitive cost all over the world. When it comes to building a web using AngularJS, we are considered the best choice among all.
Customer Satisfaction
Our team of skilled professionals is equipped with the latest frameworks and technologies to deliver you user-friendly, secure, scalable, and new solutions as per your business requirements.
Agile Procedure
We work on the Agile methodology and conduct frequent scrum events that help us optimize the practices and methods to deliver the finest results.
Dedicated Teams
With a dedicated team of top AngularJS developers, we aim to provide top business solutions on different technologies and frameworks.
Integrity & Transparency
NBT respects your ideas and vision, thereby providing you with every small project detail regularly, and considers your worthy advice whenever required.
Flexible Engagement Models
Instead of working on rigid and strict parameters, we focus on serving flexibility to our clients and let them choose different engagement and hiring models.
Competitive Pricing
We offer an ideal combination of pocket-friendly rates with amazing quality that ensures the lowest pricing in our segment.
OUR DIFFERENT CODING STANDARDS
Smart
Smart coding lets us avoid the technical risk and make it fault-resistant. We plan the actions and analyze how users could react before writing the code.
Reusable
The reusability of code narrowed the development time and redundancy. Code optimization is very important and we do it by having reusability of the code.
Also Read: Benefits of AngularJS Web Development That You Can't Afford to Miss
Beautiful
Beautiful Code seems professional and understandable for top AngularJS development services. It is written based on the widely accepted coding standards.
Stable
We take a special of code stability before releasing any products and further uses testing tools to check the code stability as well as the products.
Our Agile AngularJS Development Process
Plan a Project in Mind
Drop us a lead or fill in the form. The detailed your project requirements will be, the accurate and precise our estimation will become. With this, we decide what your Angular project will entail in terms of resources, time, and overall assessment.
Sign a Contract
We sign NDA (Non-Disclosure Agreements) between the clients and the developers to protect your potential business idea and data.
Start Development
We help you introduce products and let you hire your Top AngularJS developers with the desired skills and expertise you needed to develop best-in-class AngularJS web applications for your business.
Looking for AngularJS Development solutions? Hire NBT
Getting the right Angular  helps you ensure the success of your front-end Angular project. Your search for the top AngularJS Development Agency with complete trust and capability has brought you here. We have an excellent team and infrastructure to matches all your development requirements.
Next Big Technology is a reputed Angular Development Company in India. We have strong expertise in using Angular directives to create reusable components and new HTML syntax. With this, you can design a dynamic Model-View-Controller (MVC) based Single Page Application (SPA) effectively. We are committed to providing the best resources to Develop, Deploy, and Configure your high-end AngularJS development requirements. Using the latest Angular features like routing, dependency injections, data binding, we provide custom AngularJS Development Services. Hire AngularJS Developers with us to build enterprise-grade web and mobile apps for all business types.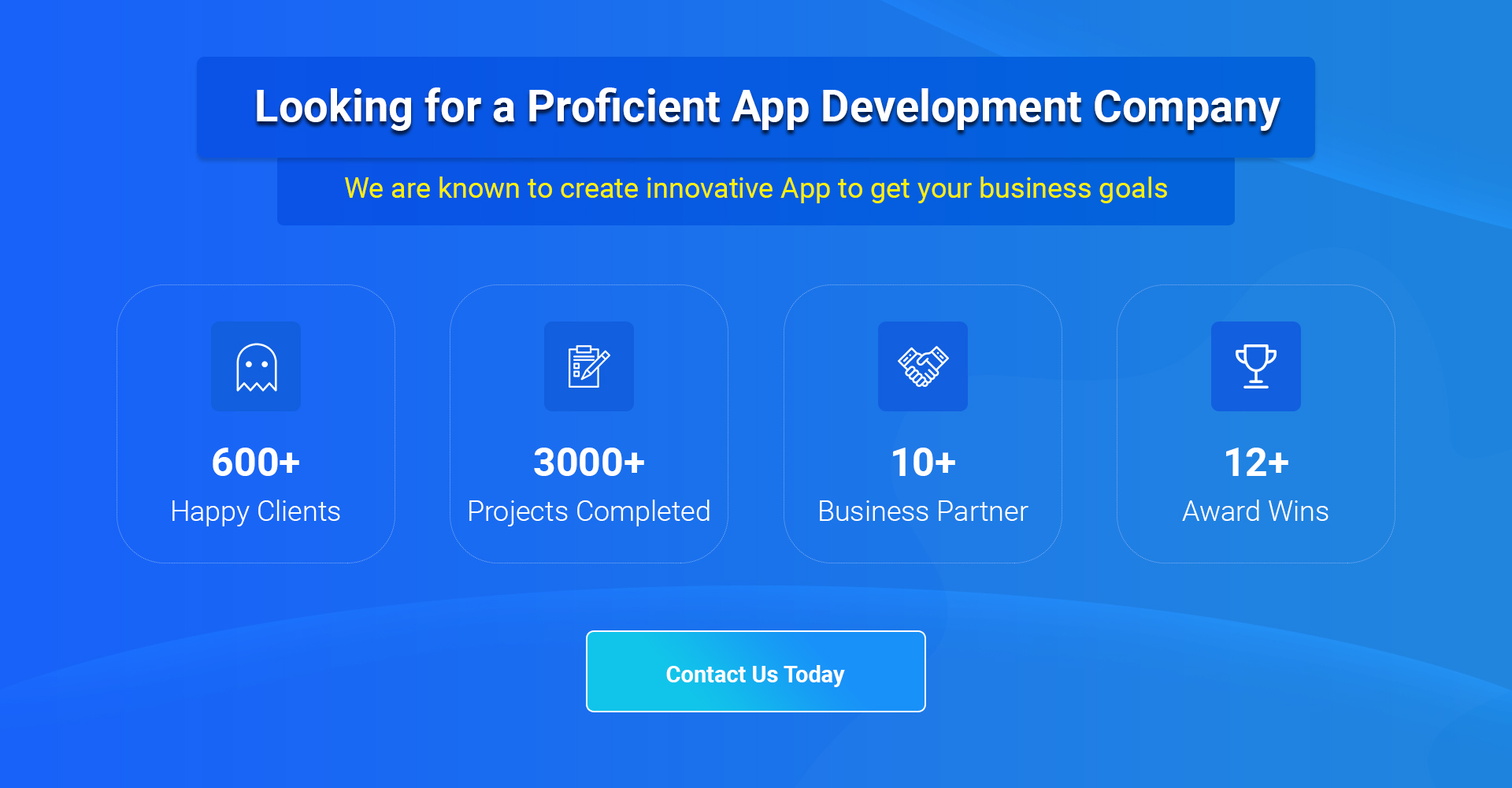 Thanks for reading our post "Looking For Top AngularJS Development Agency – Why Hire NBT?", please connect with us for any further inquiry. We are Next Big Technology, a leading web & Mobile Application Development Company. We build high-quality applications to full fill all your business needs.