IGNEOUS ON-DEMAND INSTACART CLONE DEVELOPMENT
Our Instacart clone script is an excellent addition to a small-time vendor, a large grocery chain, or any other existing business. It is the right time to invest in the bustling industry, as it indicates a healthy growth that's set to continue for the foreseeable future.
An Imperative Instacart Clone App
The professional team at NBT is highly skillful and gained experience over many years. Our extensive range of Instacart app development solutions can take your grocery business to the next level. With an intuitive UI, attractive front-end design, and highly functional back end capabilities, your business can stand out among the rest.
Our on-demand software development can increase your operational efficiency, streamline your business processes, and modernize the way of conducting business. Become a leader in the on-demand grocery delivery business by joining our NBT's family.
InstaCart Clone App Development Solution
With the recent COVID-19 outbreak, our daily lives have become unbalanced. Thus, governments are encouraging their citizens to stay indoors every time at the global level. Due to the implementation of strict measures, people have shifted to an alternative option when it comes to buying groceries. It increased delivery orders around the globe. Considering this fact, an on-demand grocery delivery market has experienced a huge boost.
The increase in demand for online grocery stores has influenced every budding entrepreneur to seek capitalization. Investing in an on-demand grocery delivery software development solution at this opportune time is the most preferable and best choice for grocery businesses.
Working-Process of Our On-Demand Grocery Delivery App

Users search for the nearby grocery store to their location
Users can browse the store for the desired items/products

Users can add the required items to the cart
After completing shopping, they can proceed to the checkout option

Users are indicated to complete the payment process
The grocery store compiles the items and await the delivery executive
Delivery executive reaches the store and picks up the package
Users can track the delivery personnel via the app
The groceries get delivered in the estimated time
Users can now rate the delivery experience and give feedback
All-Purpose Grocery Delivery App Solution
NBT aims to fulfil all grocery requirements of customers, ranges from small 'mom and pop' grocery stores to supermarket chains.
Develop your Branded Grocery Delivery App
Our Instacart clone app can grow your grocery business effectively. It is highly affordable, consumes less time, and can be easily fit into your existing business model.
Launch Your Clone App Like Instacart
Our Instacart clone app is integrated with multiple stores in one convenient location. It is an innovative solution for marketplaces around the world.
Establish Your Business Model with Our Instacart Clone Script`
Our Instacart clone app is the perfect way to boost your sales and reap profits. It is designed to increase the operational efficiency of your grocery chain and help you go the extra mile in your business.
In Our On-Demand Grocery Delivery App Solution

NBT helps you manage the basic profile settings and invite your friends using referral options to gain points.
Our developers help you hold your order products and repeat the process, whenever required.

Add the desired or preferred item to your Wishlist. It can be something that you would like to have over and over again.
We enable easy product updates that you've ordered and continue munching through a notification page.
Now, it is easy to search, select toppings, add to cart, pay, and enjoy your food to fulfill your cravings.

Get to know more about a specific dish, details about the provider, and other user reviews.
Customer App
Access Multiple Stores
Customers can access all the registered stores nearby via the Instacart app.
Easy Search
Customers can quickly search for the desired or required items.

Filtering Options
Customers can filter out or select items that they are looking for.
Quantity Settings
Customers can easily and efficiently buy multiple numbers of any item available.

Multi-Payment Platform
Customers can use any payment method like the card, internet banking, UPI, and cash on delivery.
Ratings and Feedback
Customers can send their opinions through a comprehensive rating system and give feedback.
Delivery Provider App
Accept/Decline Orders
Delivery Executive can accept/decline requested orders as per their availability.
Multiple Orders
Delivery personnel can pick up multiple orders on their route to efficiently Fulfill customer's requirements.
Status Updates
Delivery personnel can get updates of both the customer and the vendor as per the delivery status.
GPS Navigation
The delivery executives can get the right guidance to the store and the delivery location via GPS navigation.
Ability to Call a Customer and Outlets
The delivery executive can contact the customer or the vendor at any time from an easy-to-perform action within the app.
Store App

Organize Inventory
Vendors can display the items in the inventory that is easy to find and navigate.
Availability Status
Vendors can list the availability of individual items and provide information on stock refilling.

Track Delivery
Vendors can easily view the estimated time of arrival of the delivery executive to ready the order on time.
Contact Delivery Personnel/Customers
Vendors can easily communicate with the assigned delivery personnel and the customer at any time to address any queries they might have.
Multi-Payment Options
Vendors can get the payment through multiple ways to increase their business opportunities.
Admin Panel
Manage Users
Admins can manage all the users in the app including customers, vendors, and delivery executives.

Informative Dashboard
Admins can access all the operations from one convenient, and easy to access location.
Analytical Reports
Admins can get rare insights into their business and work accordingly to increase profits.

Multiple Locations
The admin can view all the details of the stores individually without considering the city, state, or country.

History
Admins can access all previous orders and related details via an app from a single location.
Settings
Admins can optimize the best-suitable on-demand grocery app.
Users can access the option to decide their drop-off location outside their homes and assures their safety via the 'Contactless delivery' feature of an app.
A Standard App Development Process
Creating a superior grocery shopping delivery app requires good coding skills and demands vast industry expertise. Our expert team at NBT has excelled in both areas and helps you grow your business to its maximum limit possible.
A step-by-step categorization of our app development process:

Project Study And Planning
We understand our client's requirements and conduct a detailed study of the competitors operating in their industries. It helps us to come up with a comprehensive plan.
We customize the front-end of our app as per the client's needs. For this, we tweak the logo, color scheme, and other branding elements and personalize all the features together.

Our team of experts works on the back-end of the app to ensure sufficient storage space and run other functionalities in check.
After completing the development process, the app undergoes a series of meticulous testing to make it bug-free.
Once the quality gets checked, NBT delivers the fully functional app to their clients. We also support the app deployment from app stores upon request.
Customize Our Prescribed Solution
With Interactive Features

NBT offers turnkey products, where you can start with ZERO time-to-market, capture the largest market share, and become the leader.

We help you control your websites and mobile apps completely that are available in your admin dashboard.

Our team of professional developers helps you take-off and scale up your business rapidly using the most scalable robust products in each category.

Our app solutions are white-label to put whatever brand you want and don't let your users know anything.

Our fantasy Dream 11 clone app offers advanced features in the product with affordable pricing.

Being the leading app development company, NBT offers iOS and Android apps with the best user experience on respective platforms.

Wide Range Of Categories
NBT helps you find the nearest store by various filters, brands, and categories. It will save you time while waiting for groceries.

Tracking The Order
Customers can track the order status with the inbuilt map feature of an app, once the order gets placed.

Checkout Cart
Customers can add multiple products to the cart at the same time, remove them, and review them before making payments.

Referral System
The customer can refer another user to buy something from an app and get rewards in return. With this, you can reach larger audiences.
Exclusive Offerings Of Our Instacart Clone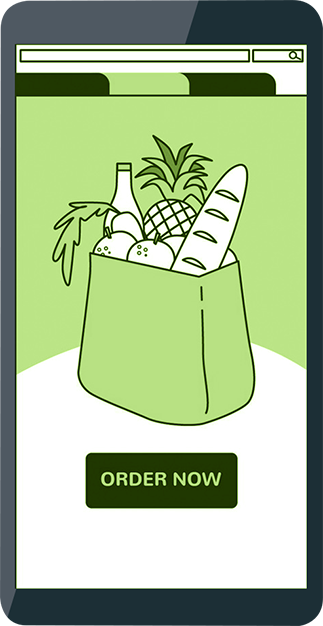 Mobile Apps
Customers can access Whitelabel iOS and Android apps along with the built-in native iOS and Android source code for brilliant execution.
Web App
A front-end website with full-fledged features for your customers to login, buy a product, pay, give feedback, and check order history.

Admin Dashboard
Get access to a powerful Admin Dashboard to control your entire business from validating and approving different user groups to adding different payment methods.

100% Customizable
Users can explore the entire code of the Server, Admin Dashboard, iOS, and Android apps with unencrypted code and complete documentation.
Payment Options
Instacart Clone uses Stripe Credit Card Processing, Paypal Mobile SDK, and Cash on Delivery as default available methods during development. NBT can build more upon their request.
An Instacart Clone App Development Company
We are expert in developing robust on-demand applications
We have a team of highly skilled and expert developers and designers

Our Instacart clone is easy-to-customize and readily available
NBT helps you reach your maximum potential
We have an excellent support team to fulfill your queries or concerns
We have extensive experience in the development industry
We have a blended knowledge base of industry and its functioning
We offer a wide range of software solutions to meet your business needs

We have an expert marketing team to expose or promote your business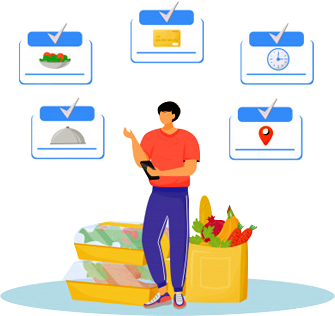 Frequently Asked Questions