Introduction
In the realm of mobile app development, Flutter has emerged as a game-changer, enabling the creation of stunning and high-performing cross-platform applications. If you're seeking top-tier Flutter developers to transform your digital aspirations into reality, look no further than India. Renowned for its tech talent and a burgeoning pool of skilled developers, India offers an exceptional hub for hiring the best Flutter developers. This blog will guide you through the process of tapping into India's talent pool to hire Flutter experts who can bring your app vision to life.
India's IT Prowess and Flutter's Appeal
India has earned its reputation as a global technology hub, boasting a thriving IT ecosystem with a rich talent pool of developers proficient in various programming languages. Flutter, with its ability to craft seamless user experiences across iOS, Android, and web platforms, has captured the attention of developers worldwide. When you combine India's technical prowess with Flutter's capabilities, the result is a powerful synergy that can drive your app development endeavors to new heights.
Advantages of Hiring Flutter Developers in India
1. Skilled Workforce:
India's IT industry has a diverse array of skilled developers who excel in various technologies. When it comes to Flutter, you can find developers with extensive experience in crafting visually appealing and robust applications.
2. Cost-Effectiveness:
Hiring Flutter developers from India often proves to be cost-effective, thanks to the favorable exchange rates and competitive pricing. You can access top-notch talent without straining your budget.
3. Quick Turnaround:
India's developers are known for their ability to deliver projects promptly. Their agile approach ensures that you can bring your app to market faster, gaining a competitive edge.
4. Diverse Expertise:
India's Flutter developers come from diverse backgrounds, making it possible to find specialists who align perfectly with your project's requirements, whether it's e-commerce, social networking, healthcare, or any other niche.
Where to Find the Best Flutter Developers in India
1. Freelance Platforms:
Platforms like Upwork, Freelancer, and Toptal allow you to explore profiles, portfolios, and reviews of Indian Flutter developers. You can choose based on their expertise, ratings, and project history.
2. Dedicated Development Firms:
India is home to numerous development firms that specialize in Flutter app development. These companies have a team of skilled Flutter developers who can handle projects of various scales.
3. Professional Networks:
LinkedIn and other professional networks are excellent places to connect with Indian Flutter developers. Engage in discussions, explore profiles, and initiate conversations to gauge their expertise.
4. Local Job Portals:
Indian job portals like Naukri, Indeed, and LinkedIn Jobs feature listings of Flutter developers available for hire. You can post job openings and review applications.
Evaluating and Hiring Process
1. Portfolio Assessment:
Carefully review candidates' portfolios to gauge the quality of their previous Flutter projects, their design sensibilities, and their ability to create intuitive user interfaces.
2. Technical Interviews:
Conduct technical interviews to delve into candidates' understanding of Flutter, Dart, and their problem-solving skills. Discuss their previous projects in detail.
3. Coding Challenges:
Assign coding challenges or tests to assess candidates' coding skills, their adherence to coding best practices, and their ability to deliver clean and maintainable code.
4. Cultural Fit:
Effective communication and cultural alignment are crucial for seamless collaboration. Ensure that your chosen developers can communicate effectively and work well within your team.
Elevating Excellence: How Next Big Technology Excels as a Flutter Developer Provider
In the rapidly evolving landscape of mobile app development, harnessing the power of Flutter can propel your projects to new heights. When it comes to finding the perfect Flutter developer provider, Next Big Technology (NBT) emerges as a standout choice. With its unwavering commitment to quality, a pool of skilled developers, and a proven track record, NBT has earned its reputation as a go-to destination for those seeking top-notch Flutter development services. This blog delves into how NBT stands out as a premier Flutter developer provider and why it can be the catalyst for your app's success.
Unveiling Next Big Technology's Flutter Expertise
1. Skilled Development Team:
NBT boasts a team of skilled and experienced Flutter developers who are passionate about crafting innovative and user-centric applications. These developers are well-versed in the intricacies of Flutter, ensuring your project is in capable hands.
2. Comprehensive Expertise:
NBT's developers bring a diverse range of expertise, enabling them to tackle projects of varying complexities across different industries. Whether it's e-commerce, healthcare, finance, or any other niche, NBT's team can deliver tailored solutions.
3. Client-Centric Approach:
At the heart of NBT's success lies its client-centric approach. The team takes the time to understand your unique requirements, ensuring that the final product aligns seamlessly with your vision and goals.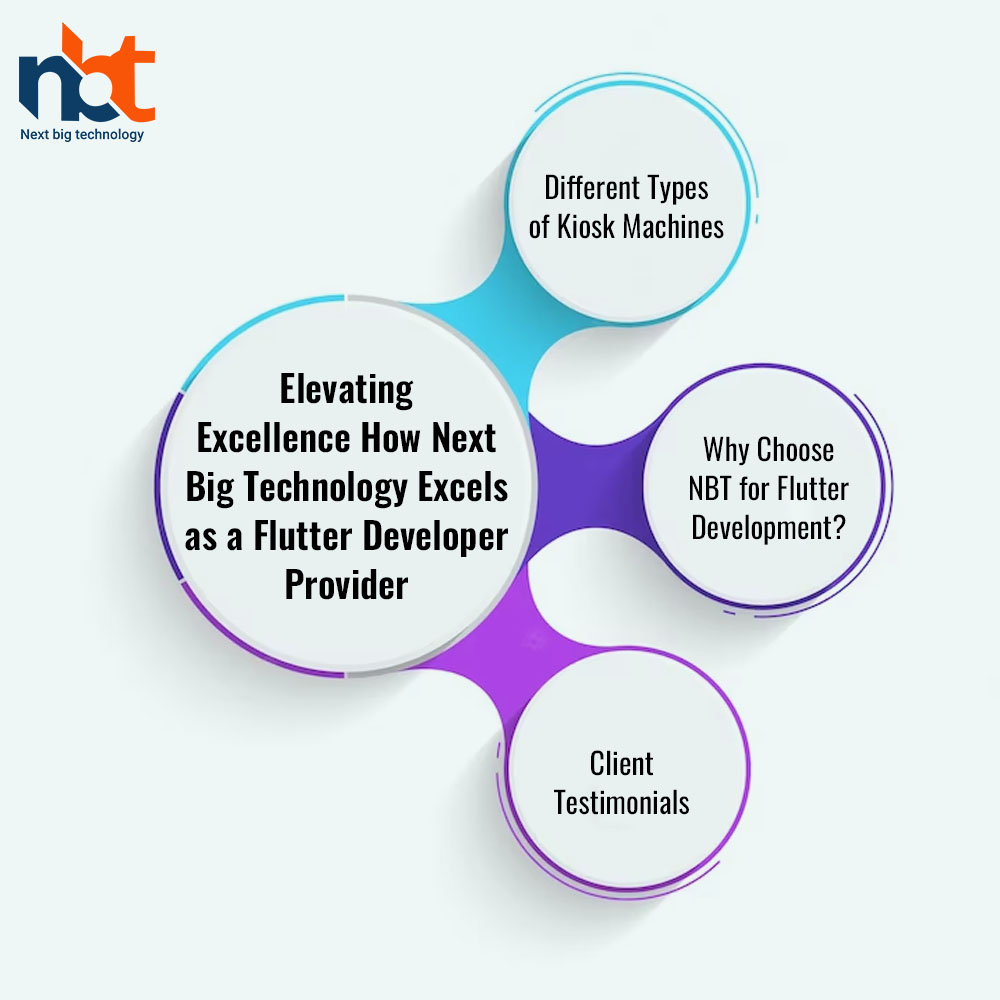 Why Choose NBT for Flutter Development?
Proven Track Record:
NBT has an impressive portfolio of successful Flutter projects that exemplify its expertise. These projects highlight the team's ability to create visually appealing, feature-rich, and high-performance applications.
Quality Assurance:
NBT places a strong emphasis on quality assurance and testing. Each project undergoes rigorous testing to identify and rectify any issues, ensuring a seamless user experience across platforms.
Innovation and Creativity:
NBT's developers are not just coders; they are innovators who can bring creative solutions to the table. Their ability to think outside the box leads to unique app features that captivate users.
Transparent Communication:
Effective communication is a cornerstone of NBT's approach. Throughout the development process, you'll experience transparent communication, regular updates, and a collaborative atmosphere.
Timely Delivery:
NBT values your time and strives to deliver projects promptly. Its agile development methodologies ensure that your app reaches the market faster, giving you a competitive edge.
Client Testimonials
NBT's client testimonials reflect its dedication to excellence:
"NBT's Flutter team exceeded our expectations with their attention to detail and commitment to quality. The app they developed for us was not only visually appealing but also delivered flawless performance across platforms." – John Smith, CEO, XYZ Inc.
"We chose NBT for our Flutter project, and it turned out to be a fantastic decision. Their developers' expertise and professionalism ensured a smooth development process, and the end result exceeded our expectations." – Sarah Johnson, CTO, ABC Corp.
Next Big Technology's prowess in providing top-tier Flutter developers sets it apart as a premier choice for businesses seeking to create outstanding cross-platform applications. With a dedicated team, a commitment to quality, and a history of successful projects, NBT is positioned to elevate your app development journey. By partnering with NBT, you're not just hiring developers; you're collaborating with a team that is genuinely invested in transforming your app vision into a remarkable reality
Hiring a Flutter Developer with Next Big Technology
In the realm of app development, the expertise and skillset of your developers can significantly impact the success of your project. When it comes to Flutter, a versatile and powerful framework, finding the right developer is crucial. Enter Next Big Technology (NBT), a trailblazer in the tech industry, known for its exceptional Flutter development services. If you're considering hiring a Flutter developer, this blog will illuminate the process of collaborating with NBT to ensure you secure top-tier talent for your project.
Navigating the Flutter Developer Hiring Process
NBT's Flutter developer hiring process revolves around a client-centric approach that prioritizes your unique requirements, vision, and goals. Let's delve into the steps of this meticulous process:
1. Initial Consultation
The journey begins with an initial consultation where you share the specifics of your project. NBT's team takes the time to understand your app's purpose, functionalities, and desired outcomes. This crucial step sets the foundation for a tailored development plan.
2. Customized Talent Search
Based on your project's needs, NBT scours its pool of skilled Flutter developers to find the perfect fit. Whether your project requires expertise in UI/UX design, complex functionalities, or specific industry knowledge, NBT ensures you're paired with developers who align with your vision.
3. Skill Assessment and Selection
NBT conducts a thorough assessment of the developers' skills, expertise, and previous projects. You'll receive profiles of potential developers along with their portfolios, allowing you to make an informed decision about who will join your development team.
4. Transparent Collaboration
Open lines of communication are vital to a successful collaboration. NBT maintains transparent communication channels, keeping you updated on the progress, milestones, and any adjustments made during the development process.
5. Agile Development Methodology
NBT embraces an agile approach to development. This methodology promotes flexibility and adaptability, allowing for adjustments to be made swiftly based on evolving project requirements. Regular check-ins and iterative cycles ensure that the project stays on track.
6. Quality Assurance and Testing
NBT's commitment to quality shines through in its rigorous testing procedures. Each stage of development is thoroughly tested to identify and resolve any issues, ensuring a polished, bug-free final product.
7. Deployment and Support
Once development and testing are complete, NBT handles the deployment process, making your app accessible to users. Moreover, NBT provides ongoing support to address any post-launch issues, updates, or optimizations.
Why Choose NBT for Hiring a Flutter Developer?
1. Diverse Expertise:
NBT's Flutter developers possess diverse expertise, ensuring your project is in capable hands, regardless of your app's niche or complexity.
2. Collaborative Approach:
NBT fosters a collaborative environment where your input is valued, and decisions are made together to ensure your vision is realized.
3. Timely Delivery:
Through agile methodologies, NBT ensures that your project is delivered promptly, giving you a competitive edge in the market.
4. Quality Assurance:
NBT's dedication to quality ensures that your app is not only visually appealing but also highly functional and user-friendly.
Cost to Hire a Flutter Developer with Next Big Technology
When embarking on the journey of app development, understanding the financial aspect of hiring skilled developers is crucial. Next Big Technology (NBT), a prominent player in the tech industry, offers exceptional Flutter development services. If you're considering hiring a Flutter developer with NBT, this blog will shed light on the cost aspect, ensuring you're well-informed about the investment required for securing top-tier talent for your project.
Factors Influencing the Cost
The cost to hire a Flutter developer with Next Big Technology can vary based on several key factors:
Project Complexity:
The complexity of your app significantly impacts the cost. Apps with intricate features, functionalities, and advanced UI/UX requirements may require more development hours, thus affecting the overall cost.
Scope of Work:
Clearly defining the scope of work is crucial. Are you looking for a developer to handle the entire development process or to work on specific tasks? The scope of responsibilities can influence the cost.
Experience and Expertise:
The level of experience and expertise of the Flutter developer you choose will impact the cost. More experienced developers might command higher rates due to their proficiency and track record.
Project Timeline:
Urgent projects that require expedited development might incur higher costs due to the need for dedicated resources and quicker turnaround times.
Dedicated vs. Part-Time Developers:
Choosing between a dedicated developer solely focused on your project and a part-time developer can influence the overall cost. Dedicated developers may come at a higher rate but offer undivided attention to your project.
Cost Models with NBT
Next Big Technology offers flexible cost models to suit varying project needs:
Fixed Price:
In this model, a fixed cost is agreed upon for the entire project. This works well for well-defined projects with a clear scope.
Hourly Rate:
NBT offers competitive hourly rates for hiring Flutter developers. This model is ideal for projects where requirements might evolve or for those seeking part-time development assistance.
Dedicated Team:
If you're looking for a more involved partnership, NBT offers a dedicated team model where you can have a team of Flutter developers focused solely on your project. This model offers transparency, control, and flexibility.
The NBT Advantage
1. Quality Investment:
While cost is a factor, it's important to consider the value you're getting for your investment. NBT's developers bring expertise, innovation, and a commitment to quality that ensures a successful outcome.
2. Transparent Communication:
NBT maintains transparent communication about the cost, ensuring you have a clear understanding of the investment required for your project.
3. Tailored Solutions:
NBT's flexible cost models cater to different project needs, allowing you to choose the model that best aligns with your budget and requirements.
Conclusion
Hiring the best Flutter developers in India offers a unique opportunity to leverage world-class talent while optimizing your project budget. India's IT expertise, coupled with Flutter's capabilities, can pave the way for innovative and impactful app development. By following a systematic hiring process, evaluating candidates based on their skills and experience, and fostering a collaborative work environment, you'll position yourself for success in the dynamic world of app development.
Thanks for reading our post "Unleashing Excellence: Hiring the Finest Flutter Developers in India". Please connect with us to know more about Flutter App Development.