In today's globalized and highly competitive market, outsourcing app development has become a popular choice for businesses seeking high-quality solutions at competitive prices. Among the top destinations for outsourcing app development, India has emerged as a powerhouse, offering a vast pool of talented developers and a thriving tech ecosystem. In this blog post, we will explore the benefits of outsourcing app development to India and why hiring the top 10% of developers in the country can lead to successful app projects.
Why Outsource App Development to India?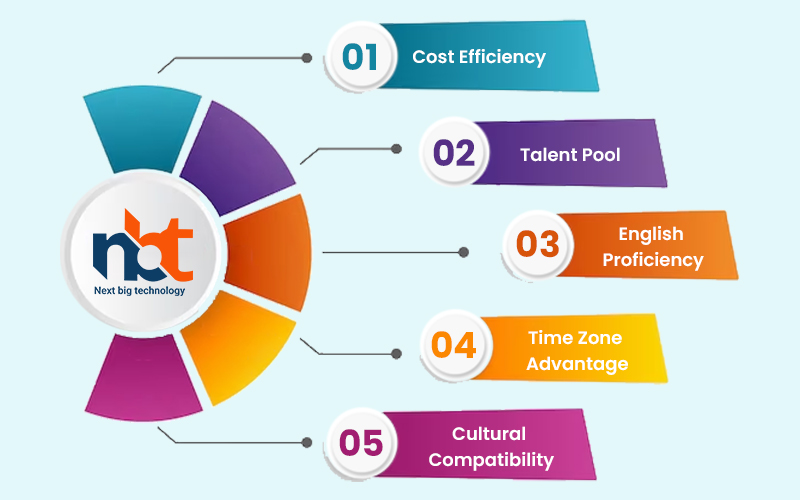 Cost Efficiency: One of the primary reasons businesses outsource app development to India is the cost advantage. India offers significantly lower development rates compared to developed countries like the United States or Europe. This cost efficiency allows businesses to allocate their budget effectively and invest in other critical aspects of their operations.
Talent Pool: India is home to a vast talent pool of skilled app developers. Indian developers are known for their strong technical expertise, adaptability, and problem-solving skills. They often possess engineering or computer science degrees and have experience working on diverse projects across multiple industries.
English Proficiency: English is widely spoken and understood in India, making communication seamless between businesses and Indian app development teams. Clear and effective communication is crucial for the success of any project, and the language barrier is not a concern when outsourcing app development to India.
Time Zone Advantage: India has a significant time zone advantage when working with businesses in regions like North America and Europe. This overlap allows for real-time collaboration and effective communication between the outsourcing company and the development team. Businesses can enjoy round-the-clock support and faster project turnaround times.
Cultural Compatibility: Indian professionals are known for their adaptability and ability to work with diverse teams. The Indian culture emphasizes teamwork, collaboration, and respect for deadlines, aligning well with the requirements of outsourcing companies. This cultural compatibility fosters strong working relationships and project success.
Hiring the Top 10% Developers in India
When outsourcing app development to India, it is essential to hire the top 10% of developers to ensure the highest quality and success of your project. Here's why:
Expertise and Experience: The top 10% of developers in India possess extensive expertise and experience in app development. They have a proven track record of delivering high-quality projects and excel in their respective domains. Hiring top-tier developers ensures that your app is developed by professionals who understand the nuances of app development and can navigate challenges effectively.
Technical Proficiency: Top developers in India have a deep understanding of the latest technologies, frameworks, and programming languages relevant to app development. They stay updated with industry trends and best practices, ensuring that your app is built using cutting-edge technologies and adheres to industry standards.
Problem-Solving Skills: The top 10% of developers in India are known for their exceptional problem-solving abilities. They can analyze complex requirements, identify potential bottlenecks, and devise innovative solutions. This skill set is invaluable when it comes to overcoming technical challenges and delivering a robust app that meets your business objectives.
Quality Assurance: Quality assurance is a critical aspect of app development. Hiring top developers in India ensures that your app undergoes rigorous testing and quality checks throughout the development process. They follow industry-standard testing methodologies, conduct thorough debugging, and deliver a polished, bug-free app.
Communication and Collaboration: Top-tier developers in India possess excellent communication and collaboration skills. They actively engage with clients, seek clarification when needed, and provide regular project updates. Effective communication ensures that your requirements are accurately understood and implemented, resulting in a successful collaboration.
Commitment and Professionalism: The top 10% of developers in India are committed to delivering exceptional results. They adhere to project timelines, maintain transparency, and prioritize customer satisfaction. Their professionalism and dedication ensure a smooth development process and a successful outcome for your app project.
How to Hire the Top 10% Developers in India
To hire the top developers in India, consider the following steps:
Define Your Requirements: Clearly define your app development requirements, including the platform, technologies, features, and timeline. This will help you find developers with the specific skills and expertise needed for your project.
Research and Shortlist: Conduct thorough research and shortlist app development companies or individual developers in India based on their experience, portfolios, client testimonials, and industry reputation. Look for companies that have a proven track record of delivering successful app projects.
Technical Evaluation: Conduct technical evaluations to assess the skills and proficiency of potential developers. This can include reviewing their past projects, conducting coding tests, or holding technical interviews. Evaluate their ability to understand your requirements and provide innovative solutions.
Communication and Cultural Fit: Evaluate the communication skills and cultural fit of the developers. Effective communication is crucial for successful collaboration, and cultural compatibility ensures smooth working relationships. Look for developers who can clearly communicate in English and align with your company culture.
Portfolio and References: Review the developers' portfolios to assess the quality of their past work. Ask for references and reach out to their previous clients to gather insights into their professionalism, work ethic, and ability to meet project expectations.
Collaboration and Project Management: Evaluate the developers' collaboration and project management skills. Look for developers who are responsive, proactive, and have experience working in agile environments. Effective project management ensures that your app development process stays on track and meets your business goals.
Conclusion
Outsourcing app development to India offers numerous advantages, including cost efficiency, access to a skilled talent pool, and a favorable time zone. However, to ensure the success of your app project, it is crucial to hire the top 10% of developers in India. These developers bring expertise, experience, technical proficiency, and problem-solving skills to the table, ensuring the highest quality standards and successful project outcomes. By conducting thorough research, technical evaluations, and assessing communication and cultural fit, you can find the right developers in India to bring your app idea to life.