Next Big Technology's MakeMyTrip Clone App Development – Best Travel Solution
Plan your vacation easily by booking a hotel, travel ticket from a reliable platform offered by Next Big Technology. Get the best development of travel App which will ensure the customers to enjoy the vacation in various destination easily.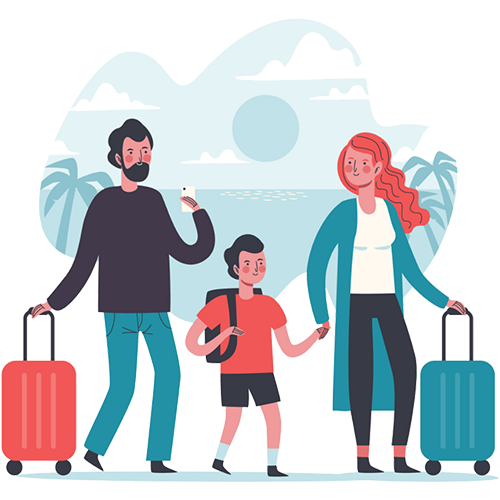 Launch a Travel Companion with Next Big Technology's
MakeMyTrip Clone App Development
Next Big Technology's MakeMyTrip Clone app will ensure the best travel booking app with a complete customization option. Every traveler will get all the latest features in the application for planning a proper trip with various travel services. Travel services include railways, flights, and buses. The app will also help travelers to book restaurants and hotels along with proper information with location and reviews. Get the ultimate holiday planning solution with all the travel needs on a single platform.
Features of Next Big Technology's
MakeMyTrip Clone App Development
These are the best possible features is being offered by the Next Big Technology's MakeMyTrip Clone App to the users.

Easily register into the application by using the proper credentials including email address and phone number.
Send customized updates about all the policy changes and other changes within the app via an in-app notification.
Get all the service access in the platform with proper information.
Report to your friends and family and get discounts and offers directly into the app for every travel plan.

Choose the required number of seats along with the preferred location directly from the app.

Users will have the ability to review and read the system after completely booking or reserving any service.
Search filter will help the user to search according to their preference.
Every user will get complete app support which will be answered by contacting customer support.
Reasons to Choose Next Big Technology's
MakeMyTrip Clone App Development
Next Big Technology is one of the largest developers of app development services. We are working with various industries to help to promote entrepreneurship in this digital era. We have listed all the possible reasons to choose Next Big Technology's MakeMyTrip Clone App.

The app will be available from the appropriate app stores in various platforms depending on the operating system the user is using.

The expert support team will continuously maintain all the scripts of the app.

Every notification can be sent to the top of the user via in-app notifications, emails, and SMS alerts.
Key Performance Indicators (KPIs)
Get complete usage statistics within the app and optimize the performance according to the requirement.
Easy integration of API will make the app smooth and function properly.