In the digital age, hobby websites have become a creative outlet and a means to connect with like-minded enthusiasts from around the world. Whether you're passionate about photography, gardening, gaming, or any other hobby, a well-designed hobby website can serve as a platform to share your interests, knowledge, and experiences. This comprehensive guide explores the key features, cost considerations, and step-by-step process involved in developing an engaging hobby website.
Introduction to Hobby Website Development
Understanding Hobby Websites: Defining the role of websites in connecting hobbyists and enthusiasts.
Significance of Hobby Websites: Providing a space to showcase talents, exchange ideas, and build communities.
Key Features of Hobby Websites
Content Showcase:
Portfolio Display: Showcasing your creations, projects, and achievements related to the hobby.
Photo Galleries: Sharing high-quality images or videos of your hobby-related content.
Blog Section: Writing articles, tutorials, or insights about your hobby.
Interactive Community:
Forums and Discussions: Providing a platform for hobbyists to engage in discussions and share experiences.
User Profiles: Allowing users to create profiles and connect with others.
Comment Sections: Enabling comments on blog posts, projects, and discussions.
Resource Sharing:
Tutorials and Guides: Offering step-by-step tutorials, guides, and how-to articles.
Downloadable Content: Providing downloadable resources, templates, and printables.
Links and References: Sharing external resources, websites, and references related to the hobby.
Event Promotion:
Event Listings: Showcasing hobby-related events, workshops, and meetups.
Calendar Integration: Allowing users to view and add events to their calendars.
RSVP and Registration: Enabling users to register for events or workshops.
Social Sharing and Integration:
Social Media Links: Connecting to your social media profiles and encouraging sharing.
Embeddable Widgets: Allowing users to embed your hobby-related content on their websites.
Newsletter Signup: Allowing users to subscribe for updates and announcements.
Responsive Design:
Mobile Compatibility: Ensuring your website functions seamlessly on various devices.
Adaptive Layout: Adapting design elements for different screen sizes.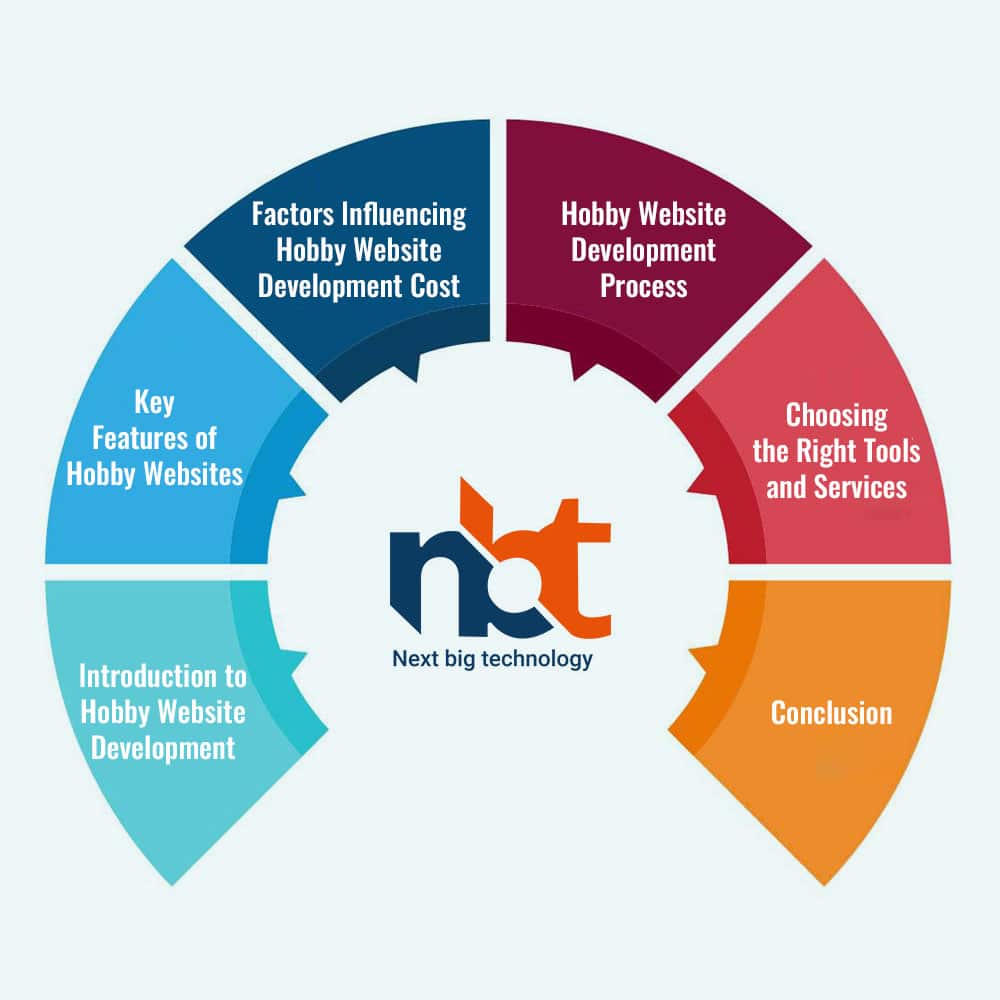 Factors Influencing Hobby Website Development Cost
Functionality and Complexity: The extent of features such as interactive community forums, resource sharing, and event promotion.
Design and User Experience: Creating an intuitive and visually appealing interface for hobbyists.
Content Volume: Developing a substantial amount of content, including tutorials, articles, and galleries.
Custom Development: Adding unique features or integrations specific to your hobby and website goals.
E-commerce Integration: Incorporating online sales of merchandise, digital products, or membership.
Mobile Responsiveness: Ensuring the website functions well on mobile devices.
Ongoing Maintenance: Regular updates, security checks, and technical support.
Hobby Website Development Process
1. Planning Phase
Define Website Goals: Identify the main purpose of the website, target audience, and hobby focus.
Content Strategy: Plan the type of content you'll create, such as tutorials, articles, and projects.
Design Concept: Determine the visual style, color scheme, and layout preferences.
Technology Selection: Choose a suitable content management system (CMS) or development platform.
2. Design and Development Phase
User Experience Design: Design an intuitive interface that reflects the essence of your hobby.
Content Creation: Develop high-quality content aligned with your hobby's theme and goals.
Community Integration: Integrate forums, comment sections, and user profiles.
Mobile Optimization: Ensure the website is responsive and functional on various devices.
3. Testing and Launch Phase
Quality Assurance: Test all features, interactive elements, and forms thoroughly.
User Testing: Invite fellow hobbyists to navigate the website and provide feedback.
Mobile Testing: Ensure optimal performance and layout on different mobile devices.
Security Checks: Implement security measures to protect user data and prevent spam.
4. Launch and Promotion Phase
Final Deployment: Upload the website to the chosen hosting server.
Promotion Strategy: Advertise the website through your social media, hobbyist communities, and relevant platforms.
User Engagement: Encourage users to participate in discussions, share content, and subscribe.
Analytics Setup: Implement tracking tools to monitor website traffic, user engagement, and popular content.
5. Ongoing Maintenance and Updates
Regular Content Updates: Keep tutorials, articles, and event listings current.
Technical Support: Address technical issues and user inquiries promptly.
Performance Optimization: Regularly optimize website speed and loading times.
Security Measures: Implement regular updates and security patches.
6. Choosing the Right Tools and Services
Content Management Systems (CMS): Explore options like WordPress, Joomla, or platforms tailored to specific hobbies.
Forum and Community Plugins: Consider plugins like bbPress or Discourse for interactive discussions.
Social Media Integration: Integrate social sharing buttons and widgets for wider reach.
Design and Graphics Tools: Utilize graphic design software for branding and visual elements.
Analytics and Reporting Tools: Implement tools for monitoring website performance and user behavior.
Conclusion
A hobby website offers a unique platform for enthusiasts to share their passion, connect with others, and contribute to a vibrant online community. The features you incorporate, the design complexity, and the ongoing maintenance efforts all contribute to the overall cost. By following a structured development process, leveraging appropriate tools, and prioritizing user engagement, you can create an immersive online experience that celebrates your hobby, fosters connections, and provides valuable resources to fellow enthusiasts around the world.