Enjoy your On-Demand Food Delivery App to stay competitive in the market, deliver your foodie customer with a smart online solution.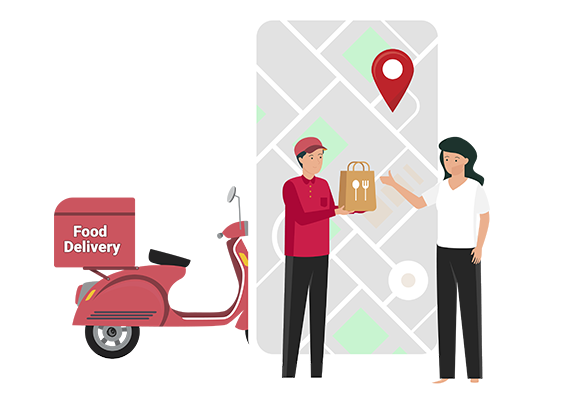 Food Delivery App Development Company
At NBT, we serve you a highly interactive and user-friendly on-demand online food delivery app for your food accumulative business. Our team of professional developers has already gained years of experience in food delivery app development solutions.
We express different online food ordering mobile applications in the ever-growing market with a team of expertise for both Android and iOS platforms. They can provide you the valuable features and high-functional apps in the best possible way using the latest trends & technology like Zomato, UberEats, FoodPanda, Swiggy. Our customized solutions are designed in such a way that can fulfill all your client's requirements.
How Food Delivery Solution Works?
In the competitive technological market, NBT facilitates you with an application that can deliver you the desired meal anywhere anytime. We aim to develop a food delivery application like Zomato & Swiggy.
Key Features of Our On-Demand Food Delivery App
FOR CUSTOMERS
FOR CUSTOMERS
Easy Start
Customers can access a short and simple process of registering the food ordering app.
User-Friendly
The on-demand food delivery software solution is a user-friendly app and helps people use it more. Hence, no specific degree or skills are required.
Easy Searching
Customers can search the mouth-watering, tempting, favorite cuisine, and a restaurant easily.
Real-Time Tracking
Easy tracking of online orders is available using GPS. It will help them get the real-time status of their food availability.
Quick Process
The food ordering process is based on three simple steps of checking the menu, order customization, and making an online payment.
Online Payment
NBT offers you to pay online to the restaurants for your order via various payment modules including Paytm, Mobikwik, Paypal, etc.
One Tap Re-Order
Re-ordering the same dishes from the same restaurants is easy in a single tap by viewing the order history.
Schedule Order
Order scheduling can be done for the future on our online food ordering app. It will help you get then timely order.
Review and Ratings
Customers can provide feedback and ratings as per their delivery or food-quality experiences.
Promotional Offers
NBT grants multiple offers, promo codes, and bonuses on time-to-time to each customer.
Support
Users have full authority to contact customer support at any time and for any reason.
RESTAURANT PANEL
RESTAURANT PANEL
Easy Start
Restaurant owners can easily enter the food panel including web and mobile.
Business Management
Business can easily update the information like company, photos, etc on the app.
Menu Management
Users can update the restaurant menu and keep it changing with time accordingly.
Order Notifications
Restaurants can send and receive notifications of the fresh orders time-to-time.
Order Management
The food delivery app of NBT allows order management in a proper and systematic way.
Tracking Payments
Our food delivery or ordering software can gather all the information related to orders and organize the payment system in one place.
Instantly Replies to Reviews
The food delivery solution of NBT enables instant replies on the review whether it is accurate or not.
Promotion
NBT promotes fresh offers and promotions to the customers.
Manage Customer Requests
The food ordering system software manages all the requests of the customers via EMails and SMS as per their orders.
Multi-Location Food Chains
Manage the food business chain easily by the food portal at multiple locations. It will help you manage everything while merging it dynamically.
Easy to Access
There is no need to specialize in any course or skills to use this food delivery mobile application.
Maintain Business Relation
The on-demand food delivery app helps to maintain the restaurant and customer relationship while sending them the promotional offers and discounts to the customers in the form of greeting on their special days.
Client Information
It records all the customer's information including the name, mail, address, and their special days.
Support
Customer support has now become easy with NBT, as it helps you in every possible manner and resolves your issues.
ADMIN PANEL
ADMIN PANEL
Restaurant Management
An admin can manage all the restaurants at a platform to bring reliable management.
Menu Management
Our food software team manages the restaurant's menu and update them as soon as a restaurant update it.
Customer Management
The food delivery solution at NBT tracks all the client's information and organize it from the customer's panel.
Payment Management
Admin can manage the payment structure of the customers and restaurants both and further checks the entire process.
Feedback Management
The food delivery software development solutions offer complete authority to provide feedback and act on the response accordingly.
Manage Notification
The admin panel of NBT's application manages the notification to send and receive the updates and information to the customers.
Report and Stats
Admin panel manages the customer's complaints and reports.
Food Delivery App Development Cost
Estimating the cost of the food delivery app development is difficult, as it depends on a feature to feature. NBT offers you the Food Delivery Applications like Zomato and Swiggy. Our Readymade apps are based on the clone of UberEats, Swiggy, and Zomato. Thus, the cost of the Food delivery clone script and the basic module is around $5000 to $15000.
Online Food Ordering Mobile App like Ubereats, Swiggy
It is an ideal choice to get an Online Food Ordering Mobile App similar to Ubereats and Swiggy. This readymade solution is based on the market's requirements and can further save your time and money.
Customers can buy the Swiggy or Foodpanda clone script and operate them for their food business. In this, you do not need to wait for a longer time to get your app development services done from the scratch. The Swiggy, Zomato, Eat24, and Ubereats clone script at NBT can be modified easily. Our team of developers can make a minor or major alteration in the readymade clone.
Get the Simple & Fastest Food Development Services At NBT Similar To Swiggy or Zomato
Search and Order the most tempting food in the city at your doorstep
Order one or multiple cuisines at a time – Indian/ Italian/ Continental etc
Brings an impression of a food delivery app development working
Why NBT as Food Delivery App Development Company- the right choice?
With advanced technology, the food industry has expanded its way to a new opportunity for many entrepreneurs. The new trend of an online food ordering process is beneficial for people who love to explore the industry. NBT is the one-stop solution offering a modern approach in the food ordering app development. We help you get a variety of Android and iOS platforms. Our smart service solutions are cost-effective and further provides you the stunning graphics with a highly polished interface.
Our experienced and dedicated team are well-versed in providing mobile app development services.
NBT helps you access customer support 24*7 and clear all the queries and issues related to an application anywhere.
Being a leading food ordering app development company, we offer complete data security and confidentiality including all your plans, ideas, and details.
Updation Of Project on Time
Our team of expert programmers can regularly update your customers on their project status.