In the modern business landscape, a professional and informative consulting website serves as a cornerstone for establishing credibility, attracting clients, and showcasing expertise. Whether you're a seasoned consultant or just starting out, a well-designed website can play a pivotal role in growing your consulting practice. This comprehensive guide explores the essential features, cost considerations, and step-by-step process involved in developing an impactful consulting website.
Introduction to Consulting Website Development
Understanding Consulting Websites: Defining the role of websites in promoting consulting services.
Significance of Consulting Websites: Building trust, demonstrating expertise, and expanding reach.
Key Features of Consulting Websites
Clear Value Proposition:
Elevator Pitch: Communicating your consulting services and value succinctly.
Unique Selling Points: Highlighting what sets your consultancy apart from competitors.
Client Benefits: Describing the benefits clients will gain from your services.
Service Offerings:
Service Pages: Detailing the consulting services you provide.
Service Descriptions: Explaining each service's scope, process, and outcomes.
Case Studies: Presenting real-world examples of successful projects.
Client Testimonials:
Client Feedback: Showcasing positive testimonials from satisfied clients.
Success Stories: Sharing how your consulting led to tangible results for clients.
Video Testimonials: Incorporating videos for authentic client endorsements.
Expertise Showcase:
Team Profiles: Introducing consultants with their expertise and credentials.
Credentials and Certifications: Displaying relevant qualifications and certifications.
Thought Leadership: Sharing articles, whitepapers, or blog posts on industry trends.
Contact and Inquiry:
Contact Information: Providing clear contact details for inquiries.
Contact Form: Offering a user-friendly form for potential clients to reach out.
Consultation Booking: Allowing clients to book consultation appointments online.
Blog and Resources:
Insightful Blog: Sharing expertise through regular blog posts on industry topics.
Educational Resources: Offering downloadable guides, ebooks, or webinars.
News and Updates: Providing updates on industry news and trends.
Responsive Design:
Mobile Compatibility: Ensuring seamless navigation and readability on mobile devices.
Adaptive Layout: Adapting design elements for different screen sizes.
Call to Action (CTA):
Free Consultation: Offering a prominent CTA for a complimentary consultation.
Newsletter Signup: Allowing users to subscribe for updates and insights.
Service Inquiry: Encouraging visitors to inquire about specific services.
Factors Influencing Consulting Website Development Cost
Design Complexity: The intricacy of branding elements, graphics, and layout.
Functionality: Adding booking systems, testimonials, and interactive forms.
Content Volume: Developing extensive service descriptions, case studies, and resources.
Custom Development: Incorporating unique features or integrations.
Mobile Responsiveness: Ensuring the website is optimized for various devices.
Ongoing Maintenance: Regular updates, security checks, and content management.
Consulting Website Development Process
1. Planning Phase
Define Website Goals: Identify the purpose, target audience, and business objectives.
Service Strategy: Plan the consulting services you will offer and how they'll be presented.
Branding Identity: Establish a consistent brand identity, including colors and typography.
Technology Selection: Choose a suitable content management system (CMS) or development platform.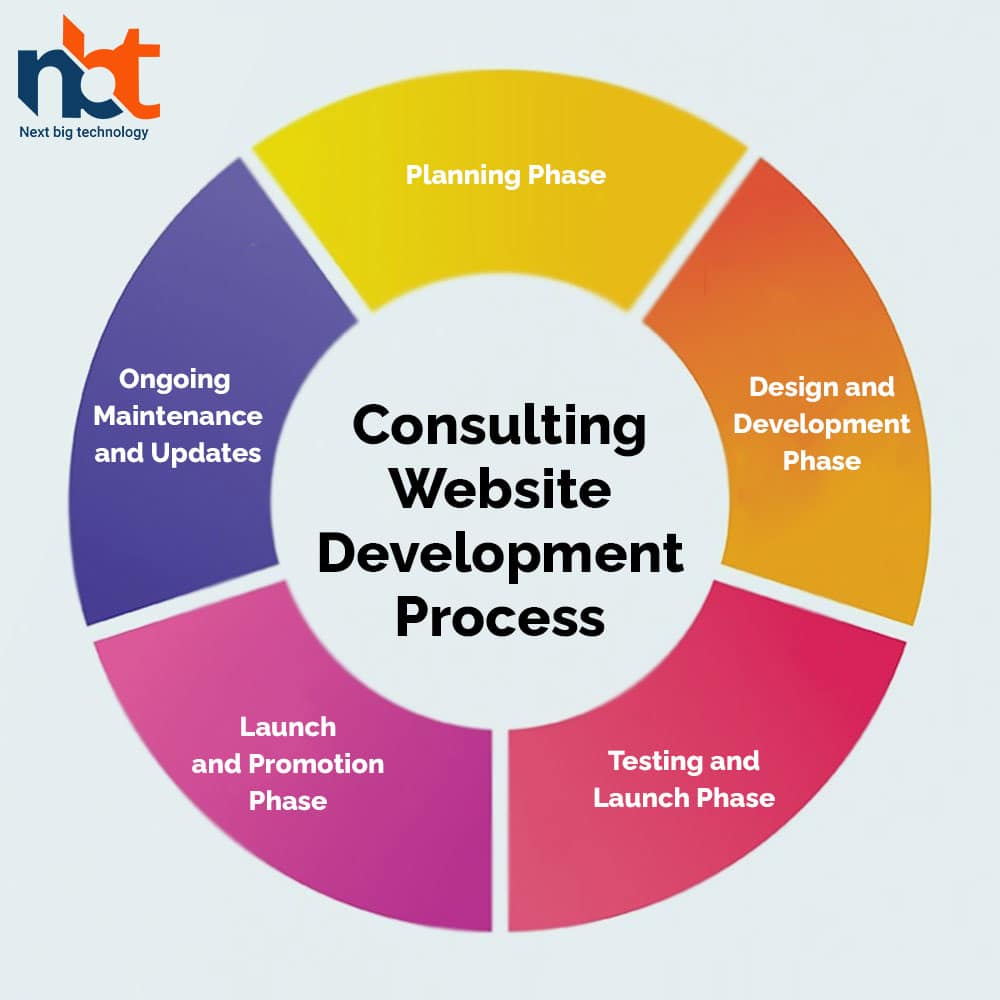 2. Design and Development Phase
User Experience Design: Design an intuitive and visually appealing interface.
Content Creation: Develop high-quality content aligned with your consulting focus.
Service Presentation: Create detailed pages for each consulting service.
Expert Profiles: Craft informative profiles of your consulting team members.
Custom Development: Integrate booking systems, contact forms, and other functionalities.
3. Testing and Launch Phase
Quality Assurance: Test all features, forms, and interactive elements thoroughly.
User Testing: Invite colleagues or volunteers to navigate the website and provide feedback.
Mobile Testing: Ensure optimal performance on various mobile devices.
Content Review: Proofread content for accuracy, grammar, and clarity.
Security Checks: Implement security measures to safeguard user data.
4. Launch and Promotion Phase
Final Deployment: Upload the website to the chosen hosting server.
Announce the Launch: Promote the website through social media, email marketing, and professional networks.
Client Onboarding: Provide guidance on navigating the website and booking consultations.
Analytics Setup: Implement tracking tools to monitor website traffic and user engagement.
5. Ongoing Maintenance and Updates
Regular Content Updates: Keep the blog, resources, and service descriptions current.
Technical Support: Address technical issues and inquiries promptly.
Performance Optimization: Regularly optimize website speed and loading times.
Security Measures: Implement regular updates and security patches.
6. Choosing the Right Tools and Services
Content Management Systems (CMS): Explore options like WordPress, Joomla, or custom development.
Booking and Appointment Systems: Consider tools for online appointment scheduling.
Branding and Design Tools: Utilize graphic design software for branding elements.
Content Creation and Editing: Employ professionals for content writing and proofreading.
Analytics and Reporting Tools: Implement tools for monitoring website performance and user behavior.
Conclusion
In conclusion, a well-designed consulting website is a crucial asset for showcasing your expertise, attracting clients, and building a professional image. The features you incorporate, the design complexity, and the ongoing maintenance all contribute to the overall cost. By following a structured development process, utilizing appropriate tools, and prioritizing user experience, you can create a powerful online platform that elevates your consulting practice and drives business growth