Next Big Technology's Venmo Clone App – Secure Payments App Development
Get the transparent and secure app for transferring money to every part of the world instantly. Start your secure payment app with the help of Next Big Technology.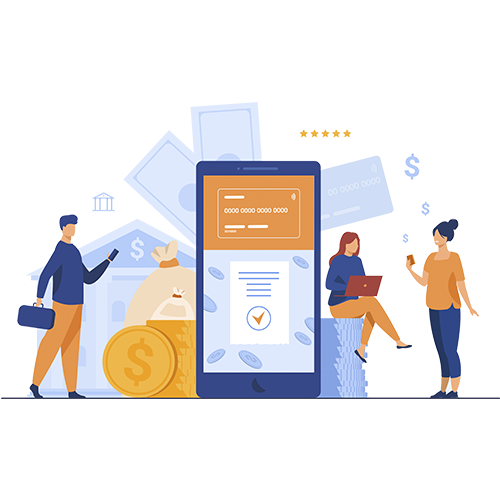 Next Big Technology's Venmo Clone App Development
Using the latest mobile application Technology every people can transact money to any extent. Next Big Technology's Venmo Clone App will offer secure payment functionalities with convenience. It is a peer-to-peer payment application that is one of the most popular ways to transact money without involving any third-party app. The app is user-friendly and can be used by anyone with knowledge about online transactions. The app will help in eliminating cash transactions as well as ATM withdrawals. This app is developed with all the latest tools and technologies keeping the future approach in mind. This app will of all the advantages in the current business world and create major opportunities for everyone
Extensive Features of Next Big Technology's
Venmo Clone App Development
Get to know about all the highlighted features available on Next Big Technology's Venmo Clone App.

Every user can create a digital wallet for transferring funds instantly.
Users will have every to send money to any user in their contact list. You can even send money to anyone by searching them by email address, phone number, or UPI address.
Users can send money requests to any user to receive payment easily. This feature is mostly used by businesses to receive monthly subscription fees.
Share your bills and invoices with others using the app to inform the customer about the pending dues.
The push notification will inform the users about bill invoices, money requests, and receiving payment. Every user will also receive a successful transaction notification via push notification.

Every transaction will require a unique OTP which will be used for any money transfer.

Chat with other users using the in-app chat feature and get in touch with customers securely.

Any Fund from the e-wallet can be transferred into the bank account for future usage.

Get access to all the payment history with proper details and time.
Guide toNext Big Technology's
Venmo Clone App
We have listed all the best reasons to choose Next Big Technology'sVenmo Clone App for your business.
Every user needs to create an account by restoring all the details in the app.

After the registration process is completed the user will be needed to link to the bank account with the application. This entire process is highly secure and completely encrypted.
You need to include all the personal information on the secure server for future reference. The app will keep all personal information private.
Users can be releasing their contact list and get to know about all their friends who are also using a similar app.
After all the steps have been completed users can transfer money to anyone. For transferring money the user needs to have other end users' names, phone numbers, and email addresses.
Next Big Technology's
Venmo Clone App Development Process
Next Big Technology's Venmo Clone App Development Services is unique and advanced in its way. We have listed the complete procedure of a development period till the deployment.

01. Tell Us Your Requirement
We will analyze all the requirements of the clients to completely know about the vision of the app and the brand.

Product development will include all the understanding and planning which need to be implemented into the final project.

Our Creative designing professionals will get more creative by designing your app user interface which ensures the flavor of the brand.
We are offering the best and advanced approach to development by coding the complete app from scratch.
Every app project will be thoroughly tested to ensure the elimination of glitches and bugs before the deployment phase.
After all the stages have been completed the app will be successfully deployed into major platforms like Android and iOS. Customers can download according to their preferred platform and enjoy theVenmo Clone app.