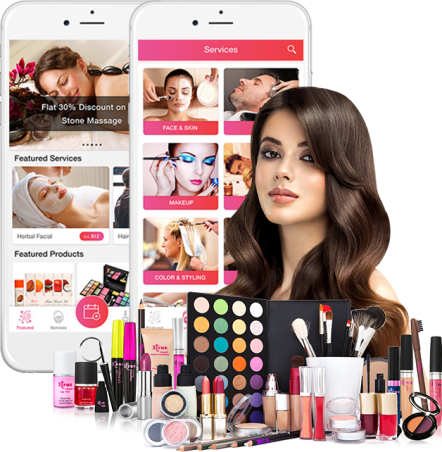 Tailor-Made On-Demand Beauty Service App Development
We develop on-demand beauty service app which make you stands out from the competitors. It pampers customers globally with special makeup services from trained experts.
Beauty Service App Development
NBT offers a Beauty app, designed and developed to assist customers at a large scale. Our salon software solution is integrated with complex technology and features to support your business and connects service seekers/customers to professional beauticians promptly. The global beautician market is witnessing high demand in a need of getting a convenient solution. Businesses can immediately enter and dominate with an app built as per your business requirements.
Beauty Service App Key Features
Account Verification
Users can access the application and its features after verifying their accounts via SMS (OTP) and email.
User Profile
Professional service providers can arrange their profile with details like name, phone number, specialized services, display picture, etc.
Search & Sorting
Users search for beauty specialists and let them activate the filter feature.
Live Chat
Customers can communicate important information with the right expert after booking the service.

Multi-Language Support
The service seekers and providers at the global level integrate multiple languages into the Beauty application.
Discount & Offers
Enhance the use of the app by offering promotional codes through discounts, service packages, or others.
Payment Gateways Integration
The app of NBT is integrated with different payment gateways with a secured and glitch-free payment experience.
Booking History
Customers can view the details of the previously availed services and further allow beauticians to see the services already offered via the function.
Rating & Review
Customers and service experts can rate the experience and provide additional feedback as per the service.
Book Now or Appointment
Users can schedule the beauty service for a later period or choose "Book Now" for immediate requests.
Beautician Tracking
After getting the service confirmation, customers can track beauticians via the map feature of an application.
Fees Estimate
Once you confirm the service request, customers can view the estimated cost of the service.
Analytical Dashboard
Admins can view end-to-end reports on business performance and download custom reports to make better decisions.
High Demand Zones
Admins can view the zones with high-demand and direct service providers to those locations.

Notifications
Update users with alerts like booking requests, service confirmations, exclusive promos, and others via push notifications, SMS, and email.
Ad Implementation
Users can strategically place ads on the app screens, and promote brands and services with ease.
Availability Status
Professional beauticians can toggle between "Available to serve" or "Not-available to serve" to receive beauty service requests.
Invite & Earn
Customers and beauty service experts can share referral links with family and friends. Once they successfully register the app, users may get rewards.

Login/Register
Customers can sign-up with the requested details like email address and phone number or log in directly via social media accounts. Similarly, beauticians can register using credentials or social media accounts.
Beauty Salon Application Development
While developing an app, NBT integrates complex business requirements into the on-demand beautician service platform and modules.
User App
Our dedicated app for service seekers is powered by essential features like search, payment gateways, tracking of beauticians, and others.
Provider/Beautician App
An easily customized app for professional beauticians is designed to match relevant service requests.
Admin Dashboard
The powerful admin panel of NBT offers flawless management of business functionalities and operations.
Website Development
Our team of experts designs websites to meet users' service requests without any hassle.
How On-Demand for Beauty Services Works
NBT develops an app flawlessly using mobile iOS and Android web platforms. We provide cross platform App Solution as well depend upon your budget and timeline requirements.

Customers register using requested credentials and log-in with their credentials or social media.
Users will get the nearby salon/parlor/service experts available as per the location.
Users can request the service right-away by choosing "Book Now" or schedule it for later.
After getting the request confirmation, customers can track professionals in real-time.
Customers can choose from multiple payment options like credit/debit cards, net banking, in-app digital wallet, or others.
Customers can rate & review the professional and their experience in the app.
Willing to know the appearance and functions of our on-demand beautician app?
Are you willing to get app prototype and featue proposal to match your needs? we provide complete list of features and some prototypes to give you an idea of app.
NBT enables global businesses to achieve their goals by integrating the right elements into the phenomenal app for beauty services.

Quality Solution
Our team of professional developers ensure the flawless performance under the unforeseen business scenarios and scale up & down to reduce platform crash.
GPS Tracking
The GPS integration into the app assists customers to track beauticians, professionals to navigate service locations, and admins to monitor movements.
Innovative Designs
We can customize the beauty service application as per your business requirements with creative themes, logo integration.
Secure Online Payment
Customers can process payments that are integrated with popular payment gateways and methods.
Multiplatform Support
Clients can access their systems anywhere across the globe with smart cloud-based solutions for businesses.