Next Big Technology is one of the most reputable WordPress Portal development companies.
Our WordPress development team has assisted clients in establishing a strong online presence through visually appealing websites.
Our WordPress developers provide a full range of services, including theme customization, plug-in maintenance, and extension development.
All you have to do is share your business requirements with us to obtain the outcomes you want.
Contact us to hire a dedicated WordPress Portal developer and receive a fully customized solution on time.
WordPress is a dependable platform for web building
WordPress is one of the most popular PHP CMS for web development platforms for creating rich, dynamic, and optimized websites.
It includes a vast theme library (both free and premium) and over 50000 plugins that are ideal for building websites and blogs that can be expanded for both personal and professional needs.
We are Experts in WordPress Portal development
We can create websites that adhere to international coding standards.
We assist you in effectively promoting your products/services with our knowledge in the development and integration of plugins, as well as the development of mobile applications.
With our WordPress Portal developer, you may discuss the concept of your website development project.
WordPress has proven to be one of the most user-friendly platforms for distributing material online.
Most people prefer to construct online and blogging needs on the CMS platform since it is more user-friendly.
Furthermore, the plugin may be readily customized and integrated with other online material to popularise with attractive visuals.
Hire dedicated WordPress Portal developer to customize the website to your specifications and as per the target audience.
Our developers work with you to reach your business goals while maintaining high industry standards after you share your ideas with us.
Through our Premium Web Development services, we ensure complete customer satisfaction with our knowledge in PHP, Javascript, HTML5, and CSS3.
Choose us without hesitation if you're looking for a WordPress All-Inclusive development solution!
What services do we provide to our customers?
In the development of WordPress, Next Big Technology provides excellent quality, security, and scalability.
Our talented developers combine their knowledge and creativity to create the ideal website for your company.
Discussion on the project
You can contact us whenever it is convenient for you to discuss your project.
We examine your project from every angle and provide you with a practical solution that meets your requirements on schedule.
A comprehensive proposal
We give a comprehensive proposal outlining the expenses and timelines associated with completing your WordPress development project.
Our proposal is entirely tailored to your project's requirements and business objectives.
Delivery of the project
By utilizing the most effective coding techniques and current site development trends, Next Big Technology provides WordPress development solutions that have been thoroughly tested and are free of timely faults.
Support and Maintenance
With our WordPress development service, you'll get help from us to handle this CMS, as well as security scanning, backup security, plugin upgrades, and other important features for a set period of time.
WordPress Portal development

Next Big Technology has hired a team of dedicated WordPress developers who is available at all times to assist you.
Take a look at the areas where our WordPress Portal development team excels:
Web development with WordPress.
Our expert WordPress developers create websites that are easy to use and have the best features for users.
By employing our capable developer, you will be able to obtain the following benefits:
From the beginning, WordPress has been used to create websites.
Custom Website using Sketch / Photoshop / AI / Figma
Blog Website Development
Error Solving
Feature enhancement
We have a fantastic WordPress Portal development team that can assist you in creating responsive themes that are tailored to your specific company needs.
Developers of WordPress Themes
We can assist you with the following tasks:
Theme Development for Responsive Websites
W3C Validation for error-free encoding
SEO Friendly Theme
Speed Optimization
Security Enhancement
Creating and Customizing a WordPress Store
Hire WooCommerce developer to suit your WordPress store's requirements and customization requests.
We can assist you with the following tasks:
Domain and hosting.
Configuration of the theme
Themes for integration and customization
Integration of a paid theme
Upgrade your WordPress version.
Set up a Woocommerce shop
Optimization of a website
Module for WordPress Plugin Development
Our WordPress module and plugin developers work with you to create a powerful plugin that is tailored to your online store.
Our plugin developers provide the following forms of assistance:
WordPress plugin customization based on your company's requirements.
Advanced plugins for profit-oriented sales are being developed.
Themes for integration and customization
A unique and secure solution.
Modules with a lot of features are being developed.
Switching from Shopify to WordPress
Choose our web Portal development solution if you wish to transfer your online store to WordPress.
We can assist you with the painless and limitless migration of your active store to the well-known CMS platform.
The following activities are covered by our migration services:
It's simple to upgrade to WordPress.
Without sacrificing your search engine rankings, you can migrate.
Assistance with replication design.
Website migration without data loss is possible
Support and maintenance for WordPress
Engage the services of a WordPress developer to assist you in completing your site development project.
Maintenance is crucial, and we engage in actions that are related to excellence.
What WordPress Portal developers can accomplish for you are as follows:
Testing the behavior of a website.
Fix the problem quickly.
Complete website uptime is guaranteed.
Backup that is both safe and reliable.
Web development is both simple and complicated.
Editor Fusion Themes and Divi Front-End Editor are used.
Conversion of the theme.
Why is it necessary for you to hire our specialized WordPress Portal developer?
The following are the major reasons why you should hire one of our WordPress developers:
Specialized services for enterprise solutions
Your project will benefit from the added value.
Before, during, and after the web building process, get guidance.
Implementation of the most recent trend.
Coding that is both secure and dependable.
On-time updates
Feedback Implementation
Delivery on time.
A profit-driven strategy.
Increased return on investment.
The solution is cost-effective.
Technical abilities
Our WordPress developers use cutting-edge technology to provide clients with the best possible solution.
Take a look at our WordPress developer's skills:
PHP\MySQL.
AngularJS
Vue JS
Ajax / jquery
Web, RPC, and XML
Frameworks for SaaS
LESS\sBootstrap.
CSS3/HTML5
Divi WordPress Frameworks
Elementor
Thrive Builder
Visual Composer
Cornerstone
Pro\Avada\Origin
WooCommerce Addons
Plugin Development
Plugin Customization
Custom theme development
Theme Customization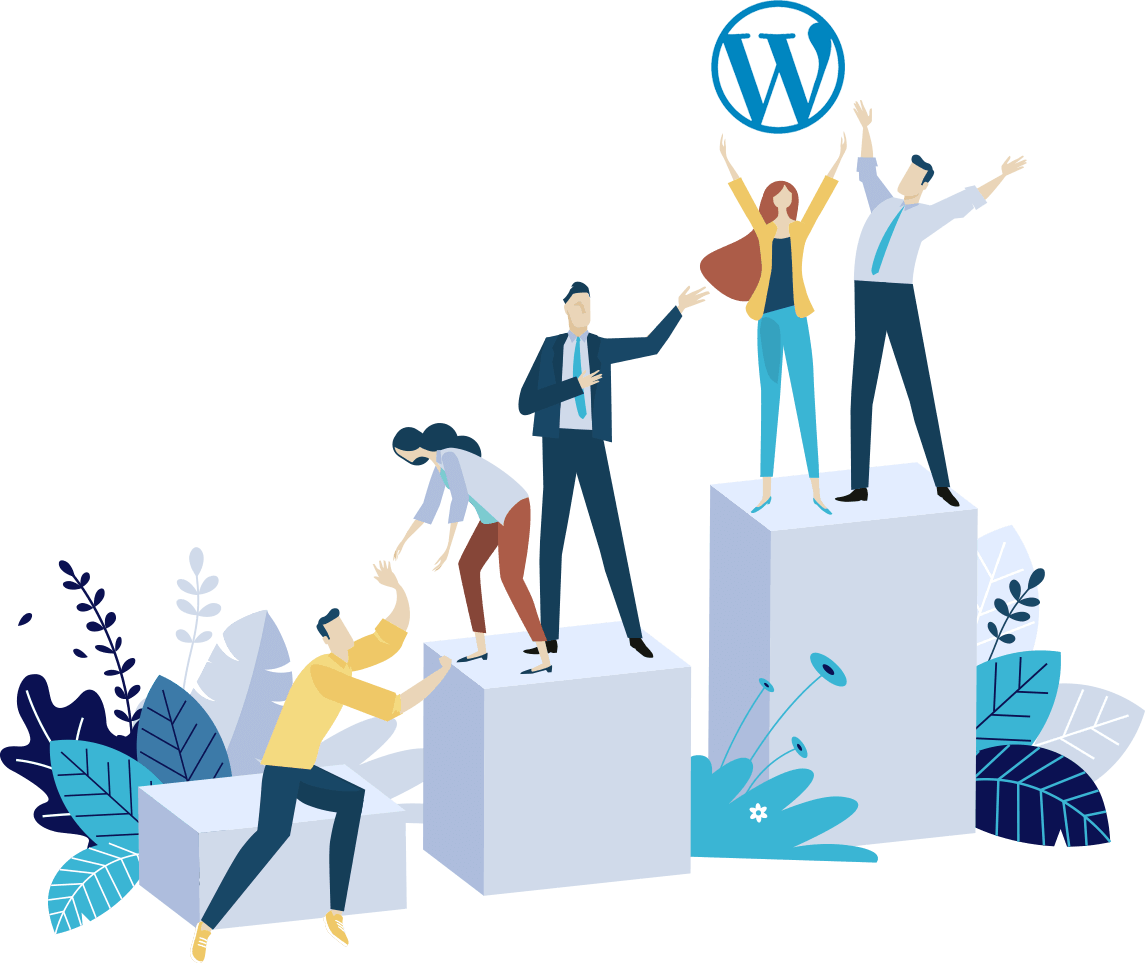 For your next major project, hire our special WordPress Portal developer!
Our WordPress Web developer is a gift for organizations, companies, and institutions in need of additional resources for a limited time.
Next Big Technology ensures that you get the best WordPress developers who can understand your exact needs and assist you in growing your business to its greatest potential!
Hire Dedicated WordPress Developers with us to build high-quality WordPress websites as per your business needs and your ideas.