The Next Big Technology, being a top eCommerce Development Company in India, USA is one of the best WooCommerce Website Development Company, which deliver high-quality wooCommerce stores for clients all over the World. Hire WooCommerce Experts from us to get an expert in WooCommerce Custom Theme Development, WooCommerce Customization, WooCommerce Addon Development, WooCommerce Theme Development, WooCommerce with Dokan Development.
We have 40+ dedicated wooCommerce developers, who are experts in WooCommerce and WordPress development with excellent skills in developing custom eCommerce websites as per client needs. We develop high-performing and large user base eCommerce websites, which help you to extend your business to great heights.
We always develop an eCommerce website that is fully functional, fully responsive, SEO friendly, and speed optimized. Hire Dedicated WooCommerce Developers with us to build an interactive and eye-catching eCommerce store that provides a complete eCommerce solution.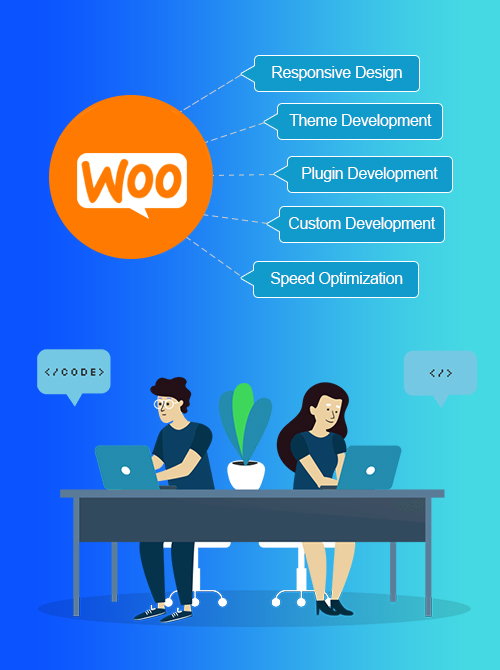 WooCommerce: A powerful eCommerce solution to build a top-notch e-store
WooCommerce is an open-source WordPress plugin, which is a complete eCommerce solution to provide a fully dynamic eCommerce store. It is mostly used and the easiest to use eCommerce solution, which is supported by thousands of themes and plugins. It's free to use and easy to install and configure.
WordPress with WooCommerce is used by 35% of active eCommerce stores and it is the best-used platform for small and mid-size businesses. It provides a fast and cost-effective solution for all your eCommerce needs.
Hire WooCommerce Developers with Next Big Technology to develop a scalable eCommerce platform. Our Dedicated WooCommerce Developers are highly skilled and well experienced in developing custom WooCommerce solutions. Our developers have done a lot of WooCommerce Websites over the years for different products and industries.
We provide services like Custom WooCommerce Websites, Custom WooCommerce Addons, WooCommerce shipping Modules, Integrate Payment Gateways with WooCommerce, Custom WooCommerce Designs, etc.
Hire WooCommerce Experts today to get done your dream eCommerce store.
Hire Dedicated WooCommerce Developers for your next project
WooCommerce is one the largest community, which provide regular updates and enhancements, they keep updating their system with each WordPress update, and always new features and functionality being added. WooCommerce is one of the most used eCommerce solutions and is always the best choice for small eCommerce stores, which provide efficient and cost-effective solutions to achieve a complete eCommerce solution.
Hire WooCommerce Experts from Next Big Technology to build an innovative and unique eCommerce store, which makes you stand out from a competitive eCommerce market.  Our Dedicated WooCommerce Developers are skilled enough to present your requirements on canvas.
Our WooCommerce experts develop high-performing, speed optimized, Seo friendly, secure and reliable eCommerce websites. We build an Automated WooCommerce store that covers all essential eCommerce features.
Our WooCommerce developers are experts in Php, Html, CSS, Javascript, Jquery, Ajax, and they follow the best coding standards. We develop end to end eCommerce solution which is secure, responsive, w3c validated, SEO friendly, and fast loading.
We have an in-house design team who create creative and unique design options for your eCommerce store which make your eCommerce store unique and eye-catching. We build a mobile-friendly eCommerce store, which will be user-friendly to use easily from any mobile device.
We have an in-house SEO team that can help you to get higher search engine rankings, we can deliver higher traffic with organic and paid SEO and Digital marketing services.
Why WooCommerce?
WooCommerce is an open-source, highly customizable eCommerce solution for startups, small businesses worldwide. Beyond the regular eCommerce solutions and build as per your imagination.
Powered by trust: WooCommerce is a WordPress plugin, used by 35% of all websites worldwide. It's a secure and reliable solution that has regular updates.
Complete eCommerce solution: WooCommerce provides a complete eCommerce solution, all in one place, which you can manage all on your own.
A Customizable system: WooCommerce is highly customizable, you can customize it as you need. Think about what you need and you can achieve it with WooCommerce.
Sell anything: Sell all types of products from Digital products to Physical products, bundle products, variable products, and group products.
No limits: WooCommerce is completely open-source, which means modify it as per your thoughts and ideas. And make it as per your own requirements.
Worldwide community: WooCommerce is a large community, which is spread all over the World, you can get support from every corner of the World.
Made for developers
Developers from every corner of the world Work with Woocommerce.
Here are some useful features from developers.
Built on WordPress: It supports all WordPress themes, plugins, and custom code.
Open development: It's an open-source and widely used, easy-to-find functions, code, and plugins everywhere. WooCommerce Development is one thing every developer would like to do who works on WordPress.
More than 400 official extensions: From payments and shipping to popup and slider, think what you need and you will find a free or paid plugin for it.
Tools you already know
Ready-Made REST API with documentation.
Complete Documentation for each part of it.
WooCommerce Features
Unlimited Themes
Highly Customized
In-built blogging
Embed products, checkout, and more on any page
Categories, tags, and attributes make products easier to find
Product ratings and reviews
Customize for your location
Product sorting and filtering
Unlimited images and galleries
Unlimited products
Discount & Coupons
User Management
Inventory Management
Product Management
Shipping Modules
Integrated payment gateways
Order Management
Email System
Mailchimp Integration
Physical, digital Products
Affiliate products
Unlimited variations
Import and export products using CSV
Shipping options
Free shipping
Geo-location support
Tax options
Customer accounts and guest checkout
One-click refunds
Email templates
Add shop managers
Multi-Vendor eCommerce
Search Engine Optimization
Related products
Highlight popular products throughout your store
Reporting
Dashboard
Steps to Hire WooCommerce Experts

Programmer for eCommerce Portal Development

We are a team of 40+ dedicated wooCommerce developers who are highly skilled and skilled to develop top-notch eCommerce stores. Connect with us today to get an estimate for your eCommerce idea. We build eCommerce stores that are requirements specific and as per business needs. We assign the right team and dedicated developers as per your needs and budget.
Consult With Our Team

Our team is always available to discuss your WooCommerce project requirements. Our business analyst team will get in touch with you to discuss all your requirements. To Hire WooCommerce Developer services our representatives are always available to discuss needs on different communication channels like Call, Whatsapp, Skype, Email, etc.
Project Discussion and Analysis
We analyze all requirements after hearing you carefully, we analyze the project internally with our WooCommerce team and come up with a complete proposal and estimate of cost and time. We ask our queries and provide suggestions to make the project a great success.
Hiring Terms Finalization
We will provide you a complete proposal with a complete breakdown and milestones. We provide you a detailed proposal with all features and deliverables mentioned, proposal will include cost, time, resources required, and milestones as per deliverables.
We will sign NDA and Contract terms which are mutually agreed upon. You can hire wooCommerce developers on basis of an hourly, fixed price, or monthly basis.
WooCommerce eStore Design
We come up with creative and innovative design ideas, which we present to you, step by step we get finalized desired design after your feedbacks and making changes, adjustments as per your feedback.
WooCommerce eStore Development
We develop a fully responsive, creative, and fully functional eCommerce website, which will have a user-friendly dashboard, SEO-friendly setup, and high performance over different platforms. We deliver quality and tested product which works perfectly on all environments.
Our Dedicated WooCommerce expert develops a high-performing and interactive eCommerce store, which provides the user a complete eCommerce solution.
Support and Maintenance
We provide long-term support after the website is up and live. We are always available for maintenance and support. We keep your website updated and secure. We work as your WebMaster and manage your website for the long run and become a part of your success.
We always keep website performance high and keep it updated with all the latest versions of WordPress, WooCommerce, Themes, and plugins. We provide free post-live support as well in case of any issue or bug.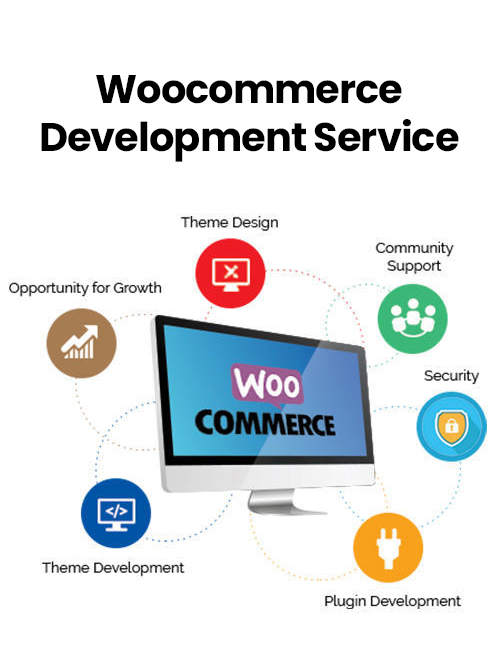 Our Experienced WooCommerce

Developer offer Services that include:
Responsive

WooCommerce Theme Development

Hire WooCommerce Programmers to help you build a feature-rich and highly robust WordPress theme to support eCommerce activities. Our dedicated WooCommerce developers offer the following services:

Hire WooCommerce Specialist to develop a high-class eCommerce website with all eCommerce features and functionalities. We build a fully responsive eCommerce website, which works perfectly on all devices including iPhone, Ipad, Tablets, Android Phone, Window Phone, All Desktop screens, and All laptop screens.
PSD to Responsive WordPress Theme
XD to Responsive WordPress Theme
FIGMA to Responsive WordPress Theme
ZEPLIN to Responsive WordPress Theme
AI to Responsive WordPress Theme
Speed Optimized Theme
W3c Validated Theme
Custom WooCommerce Theme Development
SEO Friendly WooCommerce Website
WooCommerce

Theme Customization

Hire WooCommerce experts with us to customized WooCommerce themes as per your needs. Our WooCommerce developers are experts in WooCommerce theme customization. We can customize the WooCommerce theme as per any custom requirements. We make highly customizable themes which is fully customizable for any kind of customer needs.
Themeforest Theme Customization
Premium Theme Customization
WooCommerce Customization
WooCommerce Addon Customization
Plugin Customization
WooCommerce

for Enterprise/Multi vendors

Hire WooCommerce professionals with Next Big Technology to develop large enterprise eCommerce websites. We do build highly scalable Multivendor eCommerce websites using WooCommerce. Our WooCommerce Experts are having excellent skills to develop large enterprise Websites for any business needs.
Secure Enterprise WooCommerce eCommerce Development
CRM Integration
Multiple payment gateways
Multiple Shipping Methods
WooCommerce

Addon Development

Our team of WooCommerce developers is well experienced in developing custom WooCommerce addons for any kind of additional functionality need. We develop functional addons to match additional requirements. We do create addons by following all WooCommerce and WordPress standards.
WooCommerce Delivery Plugin
WooCommerce Subscription
WooCommerce Order Tracking
One Page Checkout
Product Popup
Migration

to WooCommerce

Our WooCommerce developers are experts in Migrating different platforms to WooCommerce including users, products, and all orders. Hire WooCommerce Development Team to migrate different eCommerce stores to WooCommerce.
Shopify to WooCommerce Migration
Magento to WooCommerce Migration
Opencart to WooCommerce Migration
Joomla to WooCommerce Migration
Drupal to WooCommerce Migration
Laravel to WooCommerce Migration
Oscommerce to WooCommerce Migration
Php to WooCommerce Migration
Dot net to WooCommerce Migration
WooCommerce

Maintenance and Support

We provide long-term maintenance and support for all your needs. We provide you, dedicated in-house developers, for your maintenance needs and for any kind of additional work. Our Hire WooCommerce developer services come up with free 6-month support in case of any bug or issue. We provide support for..
WordPress updates
WooCommerce updates
Plugin updates
Security check and Fix
Speed Check and Fix
Performance check and Fix
Theme updates
Domain or Hosting updates
SSL check
New Feature or Enhancements
Offers and Sale
Hire WooCommerce Developer with Next Big Technology today to develop an end-to-end eCommerce solution to grow your business. Our developers are always available to support your business growth.
Please connect with us today to discuss your requirements and Hire WooCommerce Experts as per your requirements and budget.