NBT offers the top-notch full-stack development solution to clients all over the world. We have an excellent in-house development team who are highly skilled and experienced in all the latest and trending technologies including Nodejs, Angularjs, Reactjs, Laravel, Codeigniter, Python, HTML, PHP, Javascript, CSS, and graphic designs to frontend development.
Hire dedicated fullstack Developer from Next Big Technology if you want end-to-end quality service including – development, designing, testing, project management, support, and long-term maintenance.
Our team has many years of experience in this industry, we are providing quality solutions to our customers through our quality development solutions. Our dedicated full-stack developers are experts in the latest and trending frontend and backend technologies, designing and development, project operations, database design, and testing. Our Full Stack developers are well efficient in both design and development, and that's why we provide a complete solution, we completely check and test to find errors and fix all errors to provide a quality product.
Hire dedicated fullstack Developer on a fixed price, hourly, daily, weekly, or monthly basis to complete your complex project on time with affordable rates.  Build your own development team using our skilled resources and increase your business.
To get the quality output at a cost-effective price, Hire dedicated fullstack Developer today at NBT.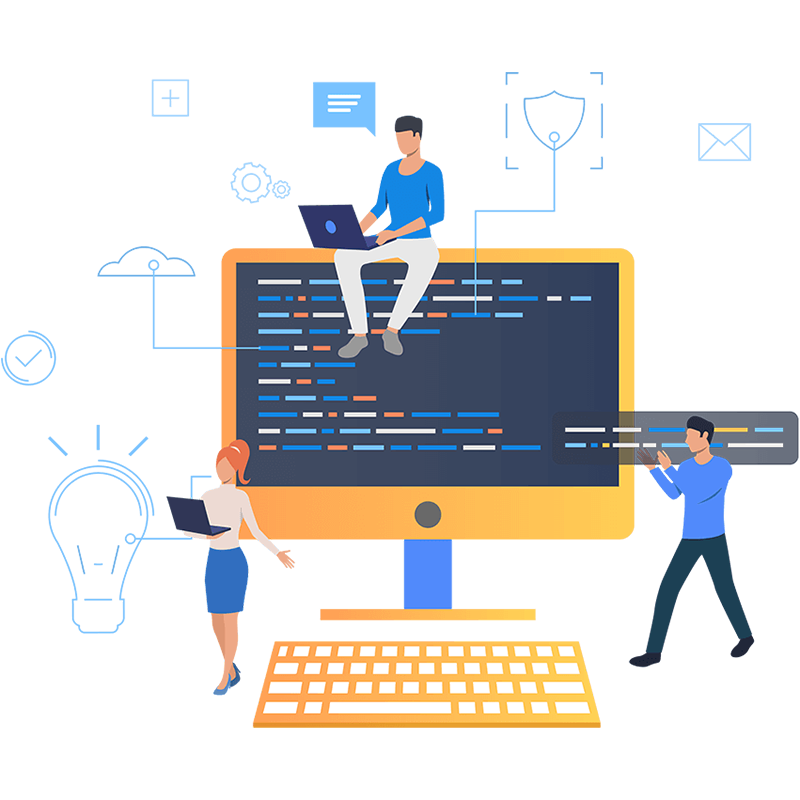 Why Hire Full Stack Developer With NBT?
NBT has got a skilled and expert full stack development team that provides dedicated support for your complex project development.
Here are some reasons to consider hiring from Next Big Technology.
High Quality
Being a top Full Stack Development Company, we provide high-quality development services, we match all your requirements and satisfy your all needs with quality work.
All Industry Experience
Our full-stack developers are well experienced in working with different industries all over the world including e-commerce, finance, nonprofit, government, sports, real estate, education, and healthcare.
Customization
We comprehend that necessities contrast from one business to another and in this manner, reliable, secure, and high-quality full-stack development solutions fit your exact prerequisites.
Flexibility
To avoid the weight of lasting enrollment and appreciate adaptability, employ our full-stack developer. You can work with us on a day-by-day, week-by-week, or month-to-month premise.
Maintenance and Support
Apart from working on the design and development, we deliver support and maintenance services after making the project live.
Daily Updates
We provide daily work reports and updates for projects while working on them, so clients can be aware of regular work progress and process.
Cost-effective
We offer full-stack development service at a very cost-effective price for all types of businesses and ensure you get quality work and we guide you to grow your business.
Hire Full Stack Developer From Us – Our Areas of Specialization
To get the desired results in your Full stack development project, you need to hire the right developer. We have obtained the best efficiency in this industry with specialization in various fields for years.
Look at our expertise area:
Frontend Development
We specialize in customized development, frontend application development, graphical design, UI development, dynamic web application development, cross-platform app development, quality testing, and quality assurance. Our skilled front-end developers can build whatever technology you want. We are fluent in frontend technology which is recorded from angular js, react js, vue js, bootstrap, mean and mern stack, javascript, CSS, and HTML. We strictly follow the best code practices to make code for large projects. To provide excellence in your web design and development, hire our frontend developer and impress maximum visitors.
Backend Development
Our specialty area includes quality backend design, the design of complex dynamic applications, MVC integration, the development of a functional backend framework, and API development. We provide the importance for the needs of our clients and build a special backend interface using node.js, JavaScript, Python, and PHP. With our innovative approach to work, we are always open to studying new concepts and developing fully functional and reliable backends that are in accordance with your project requirements. Our developers apply advanced technology and structures to build strong backend support for your website.
Database Development
Our expertise lies in the integration of the database, third-party database integration services, API integration services, customized database design & development, database migration, database testing, hosting, and server support. We apply the latest technology to build a strong, rich, and safe database for your website and your application that can manage a large number of data. Our database developer is able to process data integration quickly and follow the perfect approach to handle large data. We take, process, handle and store data in a database that applies advanced tools such as Oracle, MySQL,  PostgreSQL, and Apache Hadoop.
Hire Full Stack Developer From Us – Our Hiring Process
When it comes to hiring our dedicated and skilled full-stack developers for your project, we follow a well-structured process.
Here are the steps that are followed when hiring our developers:
When it comes to hiring our full-stack developers who are dedicated and skilled for your project, we follow a well-systematic process.
Steps to hire our full-stack developers:
Sharing Your Project Requirements
Send us all your project needs by filling out the form on our website or contact us directly. After we receive the same, we discuss and analyze your project requirements to understand what you really need. After the discussion, we assign the full stack developers according to your project needs.
Resources Selection
We allow you to interview our developers who qualify and interact with them for a long time so you get an idea of ​​their field of expertise. By asking questions on our experts, you can find out if they are enough to meet your expectations. Based on interviews and interactive sessions, select resources from our development team.
Decide on Hiring Model
When you build your team chooses your choice for your full-stack development project, you need to choose the most suitable recruitment model. You can hire them based on fixed price, hourly, daily, weekly, or monthly. Because we offer flexibility, you can hire them as long as you need them to complete your project. No matter the size of your development team, you can make changes up or down according to your changing needs.
Setting Timelines, Terms, and Conditions
To get the desired output, building a highly experienced development team is not enough. We set the schedule, plan, and conditions that will be given the most important when working on your project. Because of this, we have always managed to send all our client projects on time without compromise on quality.
Starting With Project Development
After setting the timeline, requirements, and conditions, we start working on your project right away to provide high-quality full-stack development solutions on time. We do not hold working on your project until work is delivered with full satisfaction.
Hire Our Full Stack Developer
Are you looking for ultimate full-stack development services at reasonable prices? Hire a full-stack developer from us today. With years of experience in the full-stack development industry, we have obtained many sophisticated skills and abilities that help us build websites and mobile applications outside the world exclusively for your business!